Mino Maccari
Tweet
Italy
(
Siena
1898
- &nbsp
Roma
1989
)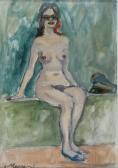 Babuino
Nov 19, 2014
Find artworks, auction results, sale prices and pictures of Mino Maccari at auctions worldwide.
Go to the complete price list of works
Follow the artist with our email alert
Variants on Artist's name :
Maccari Mino
Along with Mino Maccari, our clients also searched for the following authors:
Lyonel Charles Feininger
,
Tano Festa
,
Mimmo Rotella
,
Franco Angeli
,
Lamberto Pignotti
,
Donald Baechler
,
Jiri Kolar
,
Pino Pascali
,
Paul Jenkins
,
Hermann Nitsch
,
Piero Dorazio
Some works of Mino Maccari
Extracted between 3,125 works in the catalog of Arcadja
LA BIOGRAFIA DI Mino Maccari
MACCARI Mino , nato a Siena 1898, morto a Roma nel 1989.
Pittore, incisore e scrittore italiano.
Partecipò al fianco di Longanesi alla fondazione de Il selvaggio, giornale di opposizione al regime fascista cui partecipò in qualità di illustratore.
Attraverso questo giornale divenne il portavoce del movimento lettererio di Strapaese.