Claus Müller-Schoenefeld
Tweet
(
1910
- &nbsp
1991
)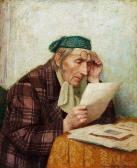 Lempertz
Mar 16, 2016
Some works of Claus Müller-Schoenefeld
Extracted between 2 works in the catalog of Arcadja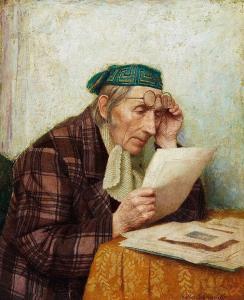 Original
Lot number:
125
Other WORKS AT AUCTION
Description
:
Lot 125: Wilhlem Müller-Schoenefeld, An Elderly Print Collector
Signed lower right: Müller SchoenefeldMüller Schönefeld was a pupil at the Berlin Academy, where he was taught by Anton von Werner and Hugo Vogel. His paintings featured regularly in the great academy exhibitions held in the Munich Glaspalast. He received the state prize of the Prussian academy, the so-called great prize of Rome, in 1895. He later worked as a freelance artist in Charlottenburg.
J. van de Maere, Brussels. - Private ownership, Rhineland.
73.5 x 60 cm
Wilhlem Müller-Schoenefeld
Oil on panel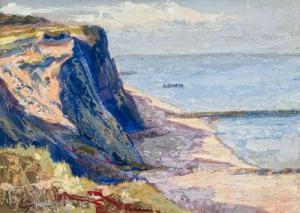 Original 1950
Lot number:
K38
Other WORKS AT AUCTION
Description
:
Müller-Schoenefeld, Claus
(1910 Berlin - 1991 Ahrenshoop)
Tempera. 210 x 298 mm. U. l. monogrammiert.
gerahmt
Steilküste Althagen, 1950er Jahre.