Mariette Lydis
Tweet
France
(
1890
- &nbsp
1970
)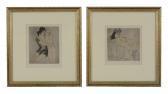 Dreweatts & Bloomsbury Auctions
May 1, 2019
Find artworks, auction results, sale prices and pictures of Mariette Lydis at auctions worldwide.
Go to the complete price list of works
Follow the artist with our email alert
Variants on Artist's name :
Packhofer-Karuy Mariette
Mariette Ludis
Some works of Mariette Lydis
Extracted between 270 works in the catalog of Arcadja
LA BIOGRAFIA DI Mariette Lydis
LYDIS Mariette nata a Vienna nel 1887 e morta a Buenos Aires nel 1970.
Pittrice ed illustratrice di origine austriaca, si formò a Parigi, dopodiche compì numerosi viaggi, dal Nordafrica, alla Russia, agli Stati Uniti e soggiornò in Italia e in Grecia, per poi stabilirsi a Parigi.
Fu di notevole successo la sua pittura di paesaggi, figure e animali, giapponesizzante e soprattutto interessante come documento di gusto, dal 1940 risiedette a Buenos Aires.
Tra le sue opere l'illustrazione di numerosi libri, tra cui: "Il giardino dei supplizi" e "Mantello dei sogni".