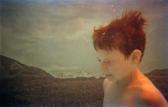 Some works of Morgan Levy
Extracted between 1 works in the catalog of Arcadja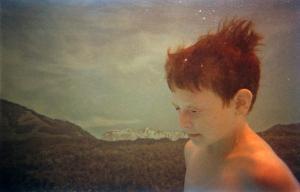 Original 2008
Lot number:
2362505
Other WORKS AT AUCTION
Description
:
Item No. 2362505 :
Morgan Levy,

Joshua Underwater,

Photograph,

2008 D4CG
Chromogenic print.
Directly from the artist.
11 x 17"
Condition
The artwork is in excellent condition.

Places in and moments of transition are a motivating theme in my work. An ongoing series of portraits of my sisters and brother (now ages fourteen and eleven respectively) and of other children their age aim to capture the emotional and physical tensions in the passage from childhood to adulthood. I often focus on the unique relationship my two sisters and I share. I am related to both of them; however,

they are unrelated to one another. My sisters are more or less strangers. To address the subtleties of their adolescence and our complex dynamic,

I aim to capture in their expressions hesitancy and uncertainty. However,

my subjects are never portrayed as weak.

My ongoing work in Iceland focuses on the psychological impact of a geographical environment and how geology can metaphorically represent different psychological states. Cutting through the center of Iceland is a ridge between two tectonic plates where the earth is slowly pulling itself apart to express its core. As the inner planet boils up between the plates,

what once was hidden comes to light and forms the topography of the island. In Iceland something is always going on below the surface. Somewhere lava is flowing or a glacier is shifting. The volatile,

geothermal nature of the place reminds you that you are not fully in control. Iceland can be a disorienting place where the unique landscape makes it difficult to distinguish reality from fantasy. Thick,

opaque fog and snow are blinding and serve as blank canvases upon which to project our inner selves and fears. Much in the way the inner earth surfaces in Iceland,

buried components of myself continue to come to light as I develop this ongoing body of photographic work.

A camera can serve as an intermediary in an unfamiliar situation,

and I too depend on my camera to confront emotional subject matter. Photographing my sibling\'\'s development,

Iceland\'\'s geographical landscape,

or windows and doorways (sites of entry and departure) has been a method of reasserting control in situations in which I otherwise feel vulnerable. To obtain further artistic control,

I subtly play with altering reality through digital painting and other techniques. In recent years,

my process has involved capturing an image with analog film and then digitally scanning the negative to generate a high-resolution file from which a final piece is created. These technical means are used to transform real spaces into otherworldly environments to investigate the experience of being in an unknown place. Though I draw from my own experience,

I focus not on self-portraits,

but on themes that resonate in all of us: the universal fear of isolation or transition. I strive to create something unidentifiable but familiar to suggest that there is more substance to connect with beneath the surface of the photograph.

Morgan was born in 1985 in Philadelphia. Six years later she began photographing using a camera with explosive,

disposable flash bulbs and has been going at it ever since. This camera was the first of many which over the course of the next decade spanned the gamut from Polaroid to pinhole. Twelve years after that first flash fired,

she attended Tisch School of the Arts at New York University. Upon graduating she received the Rosenberg Travel Fellowship,

awarded to continue her photographic romping throughout Iceland. In February 2010 she returned to Iceland for a month long stay at the NES Artist Residency,

and has been lured back at least twice since.

In recent years her work has been shown in several exhibitions and publications including a solo show at the Gulf & Western Gallery,

group exhibitions at the New York Photo Festival,

the Invisible Dog Art Center,

Winkleman Gallery,

Milk Studio Gallery,

the Lower East Side Girls Gallery and Texas Woman's University. Her work has been featured on Daily Candy as part of "Women In Photography" as well as the feminist issue of Capricious Magazine.