Thomas Lawrence
Tweet
(
1769
-&nbsp
1830
)&nbsp-&nbsp
Artworks
Wikipedia® - Thomas Lawrence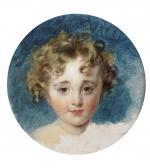 Bonhams /
Dec 4, 2013
€47,704.22 - €71,556.33
€48,192.00

Find artworks, auction results, sale prices and pictures of Thomas Lawrence at auctions worldwide.
Go to the complete price list of works
Follow the artist with our email alert
Variants on Artist's name :
Sir Thomas Lawrence
Along with Thomas Lawrence, our clients also searched for the following authors:
Giovanni Battista Crespi Il Cerano
,
Denys Fiammingo Calvaert
,
Herri Met De Bles
,
Francesco Paolo Michetti
,
Salvator Rosa
,
Guido Reni
,
Frans Ii Pourbus
,
Domenico Pecchio
,
Peter Adolf Hall
,
Jan Hackaert
,
Joseph J. Xavier Bidauld
Some works of Thomas Lawrence
Extracted between 535 works in the catalog of Arcadja
LA BIOGRAFIA DI Thomas Lawrence
LAWRENCE sir Thomas nato a Bristol nel 1769 e morto a Roma nel 1830.
Pittore inglese, fu attivo come autore di ritratti a pastello fin dall'età di 11 anni e nel 1786 si formò all Royal Academy di Londra.
In breve tempo si affermò per l'eleganza del taglio compositivo e la vivacità di esecuzione, fu il successore nel 1792 di J.
Reynolds come pittore prediletto di Giorgio III.
Dal 1794 fu membro della Royal Academy e nel 1820 ne divenne presidente.
Tra le sue opere: "Pio VII", "Arciduca Carlo d'Austria", "Carlo III", "Richard Payne Knight" e "Autoritratto".