Columbus Knox
Tweet
(
1923
- &nbsp
1999
)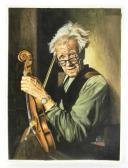 Winter Associates /
Jul 27, 2015
€185.45 - €333.80
€315.26

Some works of Columbus Knox
Extracted between 3 works in the catalog of Arcadja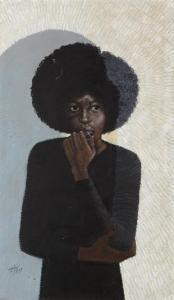 Original 1989
Lot number:
148
Other WORKS AT AUCTION
Description
:
Sale 2424 Lot 148 COLUMBUS KNOX (1923 - 1999) Engagement. Acrylic on cotton canvas, 1989. 1067x635 mm; 42x25 inches. Signed in acrylic, lower left. Provenance: acquired directly from the artist; private collection, Philadelphia. Columbus Knox was a Philadelphia-based artist who earned a scholarship to the Philadelphia Museum School of Industrial Art. However, his studies were interrupted when he was enlisted in the military during WWII. He became a painter and frequently exhibited at the annual Rittenhouse show while working as an art director in various government agencies. Knox's work has also been exhibited at the African American Museum, Philadelphia, the Free Library of Philadelphia and the Federal Reserve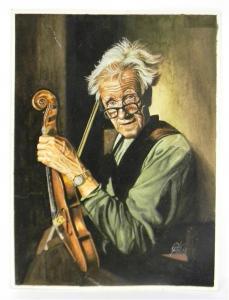 Original
Lot number:
156
Other WORKS AT AUCTION
Description
:
Columbus Knox (American, 1923-1999), "The Old Violinist", watercolor on paper depicting seated white-haired man in glasses, green shirt, and black vest holding violin and bow in resting position and looking directly at viewer, signed "C.P. Knox" LR, pencil mark across figure's nose and left eye glass, white scuff mark UL, possible in-painting to scratch CL, minor loss to "C" and "P" of signature, unframed, ss: 23 1/4" h. x 17 1/4" w.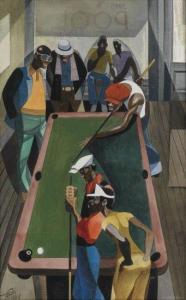 Original
Lot number:
146
Other WORKS AT AUCTION
Description
:
COLUMBUS KNOX (1923 - 1999) Pool Players . Watercolor on thick wove paper . 527x343 mm; 20 3/4x13 1/2 inches, full margins . Signed in ink, lower left . Provenance: The Hahn Gallery, Philadelphia, with the label on the frame back; private collection, Philadelphia . Columbus Knox was a Philadelphia-based artist who earned a scholarship to the Philadelphia Museum School of Industrial Art . However, his studies were interrupted when he was enlisted in the military during WWII . He became a painter and frequently exhibited at the annual Rittenhouse show while working as an art director in various government agencies . Knox's work has also been exhibited at the African American Museum, Philadelphia, the Free Library of Philadelphia and the Federal Reserve . Estimate $1,000-1,500