Godfrey Kneller
Tweet
(
1646
-&nbsp
1723
)&nbsp-&nbsp
Artworks
Wikipedia® - Godfrey Kneller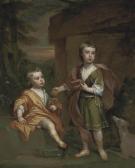 Christie's /
Jul 6, 2012
€8,684.87 - €12,406.95
Not Sold

Find artworks, auction results, sale prices and pictures of Godfrey Kneller at auctions worldwide.
Go to the complete price list of works
Follow the artist with our email alert
Variants on Artist's name :
Kneller Gottfried
Along with Godfrey Kneller, our clients also searched for the following authors:
Pompeo Mariani
,
Paul Cezanne
,
Giuseppe I Canella
,
Andrea Del Sarto
,
Carlo Grubacs
,
Giulio Carpioni
,
Romualdo Locatelli
,
Giacomo Guardi
,
Giovanni Domenico Tiepolo
,
Michelangelo Pace Da Campidoglio
,
Charles Louis Clerisseau
Some works of Godfrey Kneller
Extracted between 720 works in the catalog of Arcadja
LA BIOGRAFIA DI Godfrey Kneller
KNELLER Godfrey , pittore inglese di origine tedesca, nasce a Lubecca intorno al 1646/49.Dapprima visse a Leida, in seguito si trasferì in Inghilterra nel 1676.Allievo di Bol, un discepolo di Rembrandt, completò la sua educazione con un soggiorno in Italia, tra il 1672 e il 1675, dove guardò in particolare alle opere del Maratta e del Baciccio.
Il suo nome è conosciuto, oltre che per la sua scuola di pittura, per la vastissima produzione di ritratti alla moda, influenzati dai modi di Levy e spesso convenzionali, ma a volte ben caratterizzati e vivaci.