R.B. Kitay
Tweet
Follow the artist with our email alert
United States
(
Cleveland
1932
)&nbsp-&nbsp
Prints
Swann Galleries /
May 5, 2009
€746.10 - €1,119.15
€1,522.04
Some works of R.B. Kitay
Extracted between 2 works in the catalog of Arcadja

Original
Lot number:
111
Other WORKS AT AUCTION
Description
:
KITAJ, R.B.; and CREELEY, ROBERT. A Day Book by Robert Creeley. 13 color screenprints by Kitaj, each signed and numbered 131/200 in pencil. 616x419 mm; 24 1/4x16 1/2 inches (sheets), full margins. Folio, contents loose as issued in wrappers; red cloth canvas folding case. Berlin: Graphis, circa 1970 Estimate $1,000-1,500 number 131 of 200 copies signed by kitaj and creeley, from a total edition of 295. Kitaj often combined printing processes and discovered that silk-screen printing was a medium well-suited to his art. His association with Creeley dates to 1967 when Kitaj taught at Berkely, California. From Manet to Hockney 150.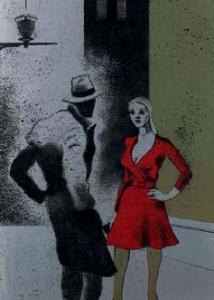 Original
Lot number:
146
Other WORKS AT AUCTION
Description
:
litografia a)es. 37/50, cm.73x52. b)es. 31/75, cm.60x80. c)es. 31/50, cm.60x80.