Maamor Jantan
Tweet
(
1961
)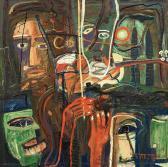 Henry Butcher
Apr 29, 2018
Some works of Maamor Jantan
Extracted between 3 works in the catalog of Arcadja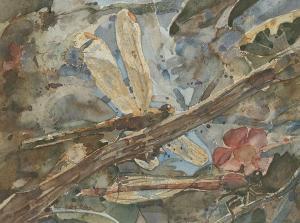 Original 1986
Lot number:
78
Other WORKS AT AUCTION
Description
:
MAAMOR JANTAN
b. Kedah, 1961
LAMAN CAKCIBOR
, 1986
Inscribed 'Laman Cakcibor 86' (lower right), signed and
dated 'MOY 86' (lower left)
Watercolour on paper
30cm x 39.5cm
PROVENANCE
Private collection, Penang.
EXHIBITED
Pameran Terbuka Seni Lukis Negara
, 1986, National Art
Gallery, Kuala Lumpur.
A self-taught artist, Maamor Jantan produces vibrant watercolour paintings with captivating compositions. His unconventional approach distinguishes his style from other painters. Although he has been living in the city since the 1980s, he often portrays the East Coast scenes of paddy fields, fishing villages, boats, nets and the sandy beaches in his paintings. Among his favoured subject matters are the

Kampung
,

Bali

and

Jogja

series as well as

Paradise

series – the three themes in one – besides his profound

Dragonfly

series. His portrayal of the \'cakcibor\'\'\'\' with their delicate, transparent wings showed his intimate connection with Nature. \"I wanted people to realize how fragile our life really is. At the same time I did not want them to destroy the environment and how urgent it is to protect our ecosystem,\" the artist revealed.
Maamor Jantan held first solo exhibition at University Malaya in April 2014 consisting of 150 paintings from the day he first started painting till the present. He worked as an apprentice machinist in Petaling Jaya in the early 1980s, later taking on a role as an assistant curator with an art gallery in Kuala Lumpur. In 1984, he met Khalil Ibrahim who then became his mentor.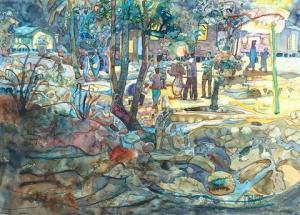 Original 2002
Lot number:
364
Other WORKS AT AUCTION
Description
:
Maamor Jantan (B. 1961)
Night Scene - Satay Aroma
Signed and dated 2002 on lower right
Watercolor on paper
49 x 68 cm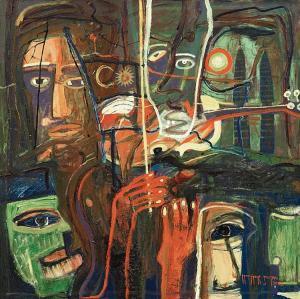 Original 2003
Lot number:
48
Other WORKS AT AUCTION
Description
:
Description: Maamor Jantan illustrates here what and who that make Malaysia great. On the right, the Petronas Twin Towers stand tall, alongside the bright sun. Meanwhile, many faces of different colours — a symbol of the various people groups that make the nation — are in display, as is the Jalur Gemilang smack in the middle. In Malay art circles, he is known as Mr Cakcibor (The Dragonfly Man), although everyone knows his name, Maamor Jantan. A protégé of Khalil Ibrahim, Maamor Jantan has come of his own through sheer diligence and practices. He would go all around the country to paint, often with his group of friends and at one time with Khalil himself, when he was more mobile. He has set a palette of mauve hues from light to darker (nocturnal scenes) with delicate transparency. Whether it is a Malay kampung scene, kenduri, fishing village, the country landscapes, his Cakcibor will be there, large and small. Mentored by Khalil in 1984 when he was an apprentice machinist, it took him nearly 30 years before he had his first solo, titled Figment Of Imagination at Universiti Malaya Art Gallery, in April 2014, showing some 150 works. He was a resident artist there, and also had a stint at Belanda Gallery in Langkawi. He is also from the core Conlay group of artists. He is also a musician, leading a traditional keroncong (Malay orchestra) group which even performs in Indonesia. Dimensions: 91cm x 91cm Artist or Maker: MAAMOR JANTAN Medium: Oil on canvas Date: 2003 Provenance: Private collection, Kuala Lumpur