Jozef Israels
Tweet
Netherlands
(
1824
-&nbsp
1911
)&nbsp-&nbsp
Artworks
Wikipedia® - Jozef Israels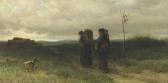 Christie's /
Oct 28, 2013
€22,197.56 - €36,995.93
€31,740.63

Find artworks, auction results, sale prices and pictures of Jozef Israels at auctions worldwide.
Go to the complete price list of works
Follow the artist with our email alert
Variants on Artist's name :
Israels Joseph
Along with Jozef Israels, our clients also searched for the following authors:
Gustave Camus
,
Léon Weissberg
,
Jan Van Beers
,
Jean-François Portaels
,
Andre Hennebicq
,
Henry Somm
,
War Van Overstraeten
,
Peeter Bout
,
Roger Somville
,
Frans Masereel
,
Josse Impens
Some works of Jozef Israels
Extracted between 356 works in the catalog of Arcadja
LA BIOGRAFIA DI Jozef Israels
ISRAELS Josef nato a Groninga nel 1824 e morto a L'Aia nel 1911.
Pittore olandese, dapprima studiò all'Accademia di Groninga, poi fu a Parigi dove frequentò l'École des Beaux-Arts con H.
Vernet e P.
Delaroche.
Nel 1856 introdusse nell'arte olandese il realismo di Courbet, ispirandosi spesso alle condizioni degli umili e degli anziani, affidandosi ad un sapiente luminismo.
Fu uno dei pittori più ammirati da V.
Van Gogh e con H.
Maris e W.
Mesdag fu uno dei protagonisti del gruppo di artisti olandesi che esposero con la denominazione di Scuola dell'Aia.