William Hudson, Jr
Tweet
United States
(
1787
- &nbsp
1861
)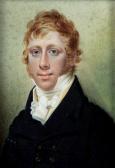 Some works of William Hudson, Jr
Extracted between 1 works in the catalog of Arcadja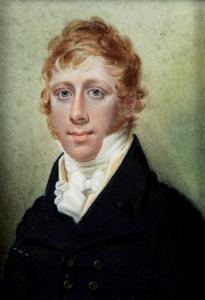 Original 1817
Lot number:
2010
Other WORKS AT AUCTION
Description
:
William Hudson, Jr.
American, 1787-
circa
1861
Portrait of a Gentleman
, 1817
Signed
Hudson
and dated
1817
(ll)
Watercolor on ivory
Sight 2 3/4 x 2 inches
Provenance:
Mrs. Pannill Rucker, Jr.
William Hudson worked in Virginia prior to relocating to Boston,where he maintained a studio from 1829-1856. Two other miniaturesfrom his early career have been documented, one a likeness of agentleman dating from 1818, included in the Manney Collection ofThe Metropolitan Museum of Art. The other, a portrait of EdwardCunningham by Hudson was depicted in
Makers of Richmond,1737-1860
, [Valentine Museum, 1949, no. 40, p. 54.] Althoughthe identity of the subject of this appealing portrait is notknown, he may also have been a Virginia resident. The miniaturecomes from the collection of Mrs. Pennill Rucker, Jr.; the Ruckerfamily homestead was in Martinsville, Virginia, about 150 milessouthwest of Richmond. Hudson appears to have eventually abandonedminiature painting in favor of portraits in oil andlandscapes.

Not examined out of frame. Fine condition, fresh color, slightwarping of ivory.