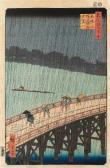 Christie's
Nov 25, 2018
Find artworks, auction results, sale prices and pictures of Ando Hiroshige at auctions worldwide.
Go to the complete price list of works
Follow the artist with our email alert
Variants on Artist's name :
Hiroshige Ichiryûsai
Hiroshige Utagawa
Ando Hiroshige
Along with Ando Hiroshige, our clients also searched for the following authors:
Afro
,
Vinicio Berti
,
Alberto Sughi
,
Marc Chagall
,
Renato Guttuso
,
Dino Migliorini
,
Pietro Annigoni
,
Roberto Ciabani
,
Giovanni Stanchi Dei Fiori
,
Michelangelo Merisi
,
Gualtiero Nativi
Some works of Ando Hiroshige
Extracted between 2,478 works in the catalog of Arcadja
LA BIOGRAFIA DI Ando Hiroshige
HIROSHIGE Ando , incisore e pittore giapponese, nasce a Edo (oggi Tokyo) nel 1797.
Allievo di Toyohiro, alla morte del maestro rifiutò di rilevarne lo studio per seguire la propria originale via di espressione.
La prima raccolta di stampe in cui si affermò per completezza e maturità di stile, unite all'umile e attenta osservazione della natura è "Vedute famose di edo".
Nel 1832 viaggiò lungo la Tokaido, l'arteria principale che collegava Tokyo a Kyoto.
Caratteristiche principali dello stile di Hiroshige sono la comprensione della semplice vita quotidiana, l'appassionato realismo, la vivida resa delle atmosfere.