Milton Halberstadt
Tweet
(
1919
- &nbsp
2000
)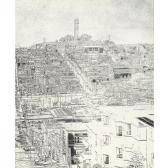 Sotheby's /
Jun 21, 2010
€4,186.90 - €5,861.66
€2,525.94

Some works of Milton Halberstadt
Extracted between 3 works in the catalog of Arcadja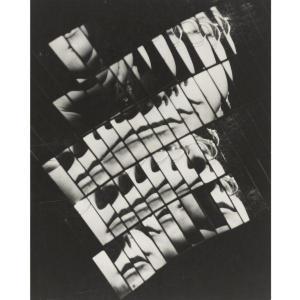 Original 1998
Lot number:
96
Other WORKS AT AUCTION
Description
:
MILTON HALBERSTADT 1919-2000 'PORTRAIT OF IRIS MILLER, CHICAGO' (MIRRORING) 5,000—7,000 USD 11 7/8 by 9 1/4 in. (30.2 by 23.5 cm.) flush-mounted, the photographer's '343 Front Street, San Francisco, 11' studio stamp, titled and dated in ink, and with 2 reproduction rights stamps on the reverse, 1940, printed in 1941 (Black and White, February 2000, p. 59; Gyorgy Kepes: Language of Vision, p. 92; Light and Vision: Photography at the School of Design in Chicago, 1937 - 1952, unpaginated) Acquired from the photographer, 1998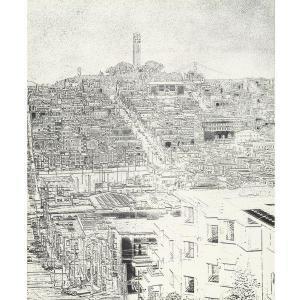 Original -
Lot number:
81
Other WORKS AT AUCTION
Description
:
MILTON HALBERSTADT 1919-2000 'SAN FRANCISCO (1)' 5,000—7,000 USD 18 1/2 by 15 1/8 in. (47 by 38.3 cm.) Kodalith line print, signed in ink on the image, flush-mounted,the photographer's 'm. halberstadt/243 vallejo st/san francisco 11'studio stamp and and a 'Photography Collection of the PolaroidCorporation' label, with typed title, credit, and process, andaccession information in ink, on the reverse, 1959 Acquired from the photographer in May 1959 for the LibraryCollection Milton Halberstadt is known primarily for his groundbreakingadvertising photographs and campaigns for food companies thatincluded Paul Masson Vineyards, Almaden Vineyards, Del Monte Foods,Dole, Foremost Brands, and Spice Islands. In 1945, he opened his M.Halberstadt Illustration Photography Studio in San Francisco afterhis service in the U. S. Army. He had extensive photographicexperience prior to that time, having worked as a studio assistantand photographing for the WPA in the 1930s. In 1940, he received ascholarship to study at Chicago's Institute of Design. There heassisted László Moholy-Nagy and György Kepes, overseeing thephotography studio and darkrooms, while experimenting. Halberstadtwas also responsible for printing Moholy's photographs for MoMA tosell. After closing his studio in 1973, Halberstadt continued tophotograph and taught photography at the University of California,Berkeley; San Francisco State; and the University of Oregon.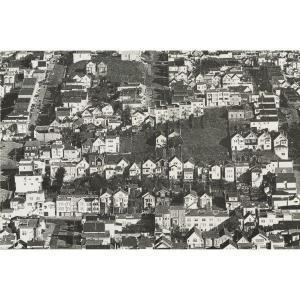 Original -
Lot number:
467
Other WORKS AT AUCTION
Description
:
MILTON HALBERSTADT 1919-2000 'SAN FRANCISCO (2)' (FROM TWIN PEAKS, NOE VALLEY) 1,000—2,000 USD 12 1/2 by 18 7/8 in. (31.7 by 47.7 cm.) Kodalith line print, signed in ink on the image, flush-mounted, the photographer's 'm. halberstadt/243 vallejo st/san francisco 11' studio stamp and and a 'Photography Collection of the Polaroid Corporation' label, with typed title, credit, and process and accession information in ink, on the reverse, 1954, printed no later than 1959 (Facing Eden: 100 Years of Landscape Art in the Bay Area, p. 176) Acquired from the photographer in May 1959 for the Library Collection