Tony Gunning
Tweet
1900-2000 Century -&nbsp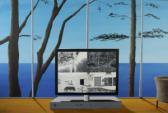 Some works of Tony Gunning
Extracted between 1 works in the catalog of Arcadja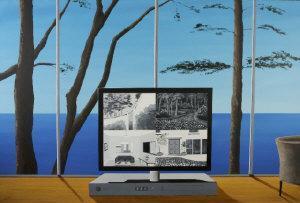 Original -
Lot number:
117
Other WORKS AT AUCTION
Description
:
Signed
This work is from a series of paintings entitled 'Scenes from theMonoculture' which are observations of modern Ireland. Thecollection is, at face value, an exposition of the artefacts ofconsumerism and the sterility of the urban livingenvironment.
With prosperity we have embraced the a global culture and much oflives are spent in the strile environments of shopping malls,superstores and such places where everything is homogenised,branded and franchised.
We have also bought into the new social order where status isdetermined not by wealth but within a complex matrix of brand andlifestyle choices.
The subtext to the work is that behind the brash self-confidence isa sense of soullessness, loss of individuality and socialisolation.
In 'Reality T.V.' the location is Killiney but could be Californiaor the French Riviera. The scene is a symbol of our affluence andcelebrity lifestyle aspirations. In an age of reality T.V. theC.C.T.V. monitor offers another view of reality in black and whiteunderlining a sense of detachment and insecurity.