A.W. Gostling
Tweet
XX Century -&nbsp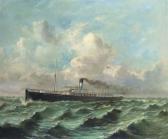 Some works of A.W. Gostling
Extracted between 1 works in the catalog of Arcadja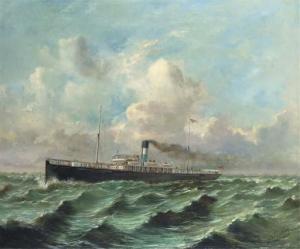 Original 1900
Lot number:
539
Other WORKS AT AUCTION
Description
:
A. W. Gostling (c.1900)
The Lamport and Holt steamer Rembrandt
signed and dated 'A.W. Gostling./1900' (lower right)
oil on canvas
18½ x 22 in. (47 x 55.8 cm.)
Lot Notes
Rembrandt was one of three identical sisters ordered for Lamport & Holt's Liverpool, Brazil & River Plate Steam Navigation Company in 1897-98. Rembrandt, the last of the three, was built by D. & W. Henderson at Glasgow and was launched on 29th May 1899. Registered at 4,667 tons gross (2,904 net), she measured 380 feet in length with a 50 foot beam and was engined by her builders. Designed as a cattle boat, she was used as a horse transport in the Boer War and fulfilled the same role in 1914-17 bringing 800 horses per voyage from the U.S.A. to France for the war effort on the Western Front. Returning to commerce after the War, she was scrapped in Germany in 1922.