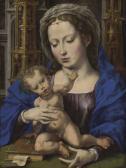 Christie's
Apr 19, 2018
Along with Jan Mabuse Gossaert, our clients also searched for the following authors:
Michele Marieschi
,
Claudio Francesco Beaumont
,
Francesco Ii Bassano
,
Anonymous
,
French School
,
Pompeo Girolamo Batoni
,
Giovanni Battista Piranesi
,
Francesco Zuccarelli
,
Simon Mathurin Lantara
,
Giovanni Battista Tiepolo
,
Some works of Jan Mabuse Gossaert
Extracted between 120 works in the catalog of Arcadja
LA BIOGRAFIA DI Jan Mabuse Gossaert
MABUSE Jan Gossaert , pittore fiammingo, è nato a Maubeuge nel 1478 ed è morto a Middelburg nel 1532.
Nel 1508 fu a Roma al seguito di Filippo di Borgogna nel castello di Suytburg e in quello di Utrecht.
Ricevette numerose commissioni da Cristiano II di Danimarca e lavorò per la corte di Malines.
Dopo le sue prime opere in cui è visibile la tradizione di David, dipinse numerosi soggetti mitologici ricchi di decorazioni classiche.
Le sue opere "San Luca dipinge la Vergine" e "Nettuno e Anfitrite" hanno avuto un'influenza fondamentale nello sviluppo della pittura fiamminga.
Per quanto riguarda i ritratti l'artista segue la tradizione fiamminga della definizione analitica creando magnifici capolavori tra cui "Jan Carondelet" e "Vecchi cognugi".