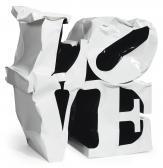 Christie's
May 12, 2011
Some works of Gimhongsok
Extracted between 3 works in the catalog of Arcadja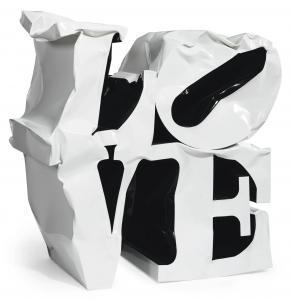 Original 2010
Lot number:
401
Other WORKS AT AUCTION
Description
:
Lot Description
Gimhongsok (b. 1964) Love enamel on steel 61 x 63 x 31½ in. (155 x 160 x 80 cm.) Executed in 2010. This work is from an edition of three.
Provenance
Kukje Gallery, Seoul
Pre-Lot Text
PROPERTY FROM AN IMPORTANT PRIVATE EUROPEAN COLLECTION
View Lot Notes ›
An extraordinary admixture of calligraphic disorder andart-historical parody, Love, an enormous steel structure,travestying Robert Indiana's iconic LOVE of almost half a centuryearlier, is a visual tour de force of erotic sensuality turned inon itself. Openly flaunting its forebear, Gimhongsok reducesIndiana's monosyllabic units to slurs in steel, the liquidtransparency of bright white against shiny black, melting into asingle biomorphic form. Love constitutes a principal example ofGimhongsok's virtuosic reach. Known for works across a range ofmediums from complex installations, which dynamically combinesculpture, photography, video, wall texts and performance, tounique examples of sculpture and performance art, Gimhongsok'sinterests range from fictional narratives to an examination oftoday's complex modes of communication. As satirical as they aredidactic, his projects question the role of public sculpture, itsefficacy and its function. Gimongsok's treatment here of an icon of1960s culture is both a hilarious taunt as well as a poignantreminder of the optimism and hope, now lost, of former times.
Love is also a work central to Gimhongsok's interest in language.'With most works I begin by choosing a word or set of words. Thisis when I start associating various words, selecting haphazardlyfrom those that come to mind. I ignore the word's dictionarydefinition, give it new meaning and combine it with chosen objects(Interview in ArtAsiaPacific, no. 54, pp. 90-95). In this context,Love, is quintessentially emblematic of the artist's concerns, withhis ongoing dialogue with the West and with its art historicalcanon and cultural context. Challenging the social function ofpublic art, the role of public sculpture, the monumental influenceof the accepted art historical canon-its authorship and itsuse-Love delivers a compelling commentary on current concerns, andin doing so subverts a major icon of our common past. Itsgloriously crumpled form, deflated, yet even so, inferring themonumental, offers a salient if affecting statement for ourtimes.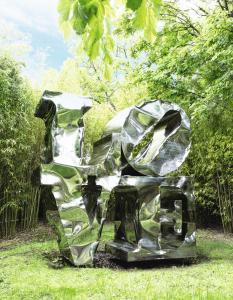 Original 2012
Lot number:
216
Other WORKS AT AUCTION
Description
:
Gimhongsok LOVE B. 1964 stainless steel 300 by 300 by 120 cm. 118 1/8 by 118 1/8 by 47 1/4 in. Executed in 2012, this work is number 3 from an edition of 6.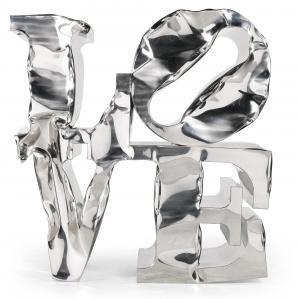 Original 2012
Lot number:
121
Other WORKS AT AUCTION
Description
:
LOT 121
GIMHONGSOK

B. 1964
LOVE
stainless steel
168 by 160 by 70cm.; 66 1/8 by 63 by 27 1/2 in.
Executed in 2012, this work is number 3 from an edition of 3.