James Gillray
Tweet
(
1757
-&nbsp
1815
)&nbsp-&nbsp
Prints
Wikipedia® - James Gillray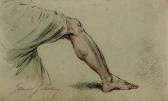 Bloomsbury London /
Apr 25, 2013
€234.84 - €352.26
€476.20

Find artworks, auction results, sale prices and pictures of James Gillray at auctions worldwide.
Go to the complete price list of works
Follow the artist with our email alert
Variants on Artist's name :
Kent J.
Hurd J.
Some works of James Gillray
Extracted between 499 works in the catalog of Arcadja
LA BIOGRAFIA DI James Gillray
GILLRAY James nato a Chelsea nel 1757 e morto a Londra nel 1815.
Incisore inglese, celebre per le numerose vignette satiriche, parodie e caricature incise all'acquaforte e colorate a mano.
Prese di mira soprattutto il regime di Giorgio III ed i personaggi politici dell'epoca, da Ch.
J.
Fox a W.
Pitt il giovane e fu anche un buon illustratore.