Corrado Giaquinto
Tweet
Italy
(
Molfetta
1690
-&nbsp
Napoli
1765
)&nbsp-&nbsp
Artworks
Wikipedia® - Corrado Giaquinto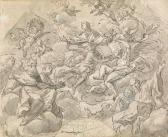 Palais Dorotheum /
Jun 16, 2009
€3,000.00 - €4,000.00
Not Sold

Find artworks, auction results, sale prices and pictures of Corrado Giaquinto at auctions worldwide.
Go to the complete price list of works
Follow the artist with our email alert
Variants on Artist's name :
Corrado Cavaliere
Along with Corrado Giaquinto, our clients also searched for the following authors:
Oswald Achenbach
,
Andreas Achenbach
,
Louis Licherie De Beurie
,
Franco Colella
,
Bartolome Esteban Murillo
,
Antoine Bouvard
,
Francesco Ciccio Solimena
,
European School
,
Alberto Pasini
,
Guercino
,
Neapolitan School
Some works of Corrado Giaquinto
Extracted between 139 works in the catalog of Arcadja
LA BIOGRAFIA DI Corrado Giaquinto
GIAQUINTO Corrado nato a Molfetta (Bari) nel 1703 e morto a Napoli nel 1766.
Pittore italiano, a Napoli fu allievo di F.
Solimena e nel 1727 fu a Roma, dove ottenne un precoce successo e ricevette importanti commissioni nel settore della pittura decorativa.
Fu attratto dalla scioltezza compositiva di L.
Giordano, di cui diede un'interpretazione coloristica più lieve, con elementi stilistici prossimi a G.
Lanfranco e Pietro da Cortona.
Nel 1753 fu a Madrid, dove venne nominato pittore ufficiale di Ferdinando VI e direttore della Reale Accademia di Pittura.