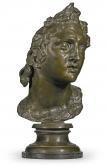 Sotheby's
Dec 16, 2015
Along with Vincenzo Gemito, our clients also searched for the following authors:
Giorgio De Chirico
,
Domenico Morelli
,
Thomas Kent Pelham
,
Tito Conti
,
Sebastiano Conca
,
Giacinto Gigante
,
Vincenzo Migliaro
,
Hans Bellmer
,
Guido Biasi
,
Vincenzo Canino
,
Cavaliere Ippolito Caffi
Some works of Vincenzo Gemito
Extracted between 562 works in the catalog of Arcadja
LA BIOGRAFIA DI Vincenzo Gemito
GEMITO Vincenzo nato nel 1852 e morto nel 1929 a Napoli.
Scultore italiano, iniziò la sua attività nella bottega di E.
Caggiano, ma antiaccademico di natura, lasciò la bottega del maestro per lavorare con A.
Mancini e tentare la strada del verismo.
Negli anni successivi eseguì una serie di bustini e figurette di mendicanti e popolani in creta, riuscendo a cogliere il carattere del personaggio.
Espose al Salon di Parigi e lavorò per l'Esposizione universale, durante quel soggiorno a Parigi ritrasse alcuni tra i più noti personaggi dell'epoca, come G.
Boldini e J.
-L.
-E.
Meissonier.
Nel 1880 rientrò a Napoli e nel 1883 ebbe una propria fonderia, nell'anno seguente ricevette importanti commissioni, ma dal 1886 al 1905 si chiuse in un volontario e totale isolamento.
Le sue prime opere apparvero legate alla tradizione del verismo meridionale, solo negli ultimi anni abbandonò la poetica realistica per una ricerca che alle volte rimandò a certi manieristi alesandrini.