Paul Gauguin
Tweet
France
(
Paris
1848
-&nbsp
Iwa
1903
)&nbsp-&nbsp
Artworks
Wikipedia® - Paul Gauguin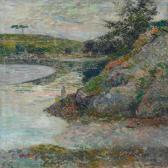 Bruun Rasmussen /
Jun 10, 2014
€221,074.78 - €276,343.47
€350,000.00

Along with Paul Gauguin, our clients also searched for the following authors:
Ansel Adams
,
Giorgio De Chirico
,
Andy Warhol
,
Maurizio Cattelan
,
Amedeo Modigliani
,
Lucio Fontana
,
Damien Hirst
,
Alberto Giacometti
,
Francis Bacon
,
Richard Avedon
,
Claude Monet
Some works of Paul Gauguin
Extracted between 825 works in the catalog of Arcadja
LA BIOGRAFIA DI Paul Gauguin
GAUGUIN Paul nato a Parigi nel 1848 e morto sulle Isole Marchesi nel 1903.
Pittore francese, trascorse i suoi primi anni di vita a Lima in Perù, dopodiche rientrò in Francia, dove frequentò le scuole a Orléans ed a Parigi.
Nel 1865 si arruolò in Marina e nel 1871 tornato a Parigi trovò un impiego presso un agente di cambio, ma incoraggiato dal suo tutore G.
Arosa, iniziò una fervida attività di pittore di gusto impressionista.
Ebbe dei rapporti con Pissarro ed espose con gli impressionisti, nel 1883 decise di seguire la sua vocazione ed abbandonò definitivamente il suo impiego.
Da quel momento cominciò ad intraprendere una serie di viaggi che lo portarono a Pont-Aven in Bretagna, a Panama, in Martinica, poi di nuovo a Pont-Aven, dove avvenne la drammatica rottura della sua amicizia con V.
Van Gogh.
Nel 1895 fu a Tahiti e nelle Isole Marchesi, tutti questi spostamenti lo portarono alla ricerca di una sorta di mitico Eden che deformò l'immagine del suo primitivismo.
La sua pittura fu certamente diseguale, ma poggiata su una straordinaria ricchezza figurativa e su inedite soluzioni formali, il suo interesse si volse anche agli idoli "barbari", riuscendo ad anticipare di una generazione quello nutrito dagli espressionisti tedeschi e dai cubisti, la scoperta della sua pittura fu decisiva per i giovani nabis e la retrospettiva influenzò i fauves.
Tra le sue opere: "Donna caraibica", "La visione dopo il sermone", "Donne sulla spiaggia", "Lo spirito dei morti veglia", "Da dove veniamo? Chi siamo? Dove andiamo?", "Vahiné con la gardenia" e "L'oro dei loro corpi".