Diamante Fra
Tweet
Italy
(
Terranuova
1430
- &nbsp
1492
)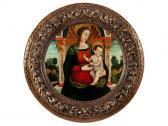 Hampel
Apr 12, 2018
Along with Diamante Fra, our clients also searched for the following authors:
Getulio Alviani
,
Constantin Andrevich Somov
,
Alexander Nikolaiev. Benois
,
Antonio Canal Canaletto
,
Mirko Basaldella
,
Michele Cascella
,
Henri, Le Douanier Rousseau
,
Zinaida Yevgenievna Serebriakova
,
Joan Miró
,
Nikolai Alexandrov. Benois
,
Giuseppe Zigaina
Some works of Diamante Fra
Extracted between 3 works in the catalog of Arcadja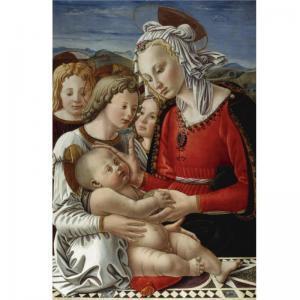 Original 1492
Lot number:
39
Other WORKS AT AUCTION
Description
:
measurements note
29 7/8 by 20 3/4 in.; 76 by 52.8 cm.
DESCRIPTIONtempera on panel
PROVENANCE
William Graham (1817-1885), 35 Grosvenor Place, London, before 1882 (as Filippo Lippi); His deceased sale, London, Christie's, April 8, 1886, lot 340 (as Filippo Lippi); Acquired from the above by Robert Henry Benson (1850-1929), London, in whose collection it remained until at least 1895 (as Fra Diamante); With Duveen Brothers, Paris (as School of Filippo Lippi); By whom sold to Commendatore Paolo Gerli, Milan, on September 4, 1934, for 125,000 francs; Purchased from the above by a Swiss private collector in 1936; Thence by descent until recently.
EXHIBITED
London, Royal Academy of Arts, Exhibition of Works by the Old Masters, 1875, no. 185 (as Filippo Lippi), lent by Graham; London, Royal Academy of Arts, Exhibition of Works by the Old Masters, 1895, no. 151 (as Florentine School), lent by Benson; Manchester, City Art Gallery, Loan Exhibition of the Benson Collection of Old Italian Masters, April 27 - September 3, 1927, no. 70.
LITERATURE AND REFERENCES
Catalogue of Pictures Ancient and Modern [Graham Collection], London 1882, p. 10, cat. no. 213 (as Filippo Lippi); G. Gronau, in Repertorium für Kunstwissenschaft, vol. XVIII, 1895, p. 228; A. Graves, A Century of Loan Exhibitions 1813-1912, London 1913, vol. I, p. 347 (as Florentine School), and vol. II, p. 710 (as Filippo Lippi);Catalogue of Italian Pictures at 16 South Street, Park Lane, London and Buckhurst in Sussex, collected by Robert and Evelyn Benson, London 1914, p. 33, cat. no. 18 (as Fra Diamante);Loan Exhibition of the Benson Collection of Old Italian Masters, exhibition catalogue, Manchester 1927, p. 24, no. 70; B. Berenson, Italian Pictures of the Renaissance. Florentine School, vol. I, London 1963, p. 59 (as Fra Diamante).
CATALOGUE NOTE
Fra Diamante was raised in the Carmelite convent in Prato and was apprenticed as garzone in the workshop of Fra Filippo Lippi. He is briefly mentioned in 1447, being paid for gilding a predella in Lippi's altarpiece of the Coronation of the Virgin, he went on to become Lippi's chief assistant. Fra Diamante transferred from the Carmelite Order and became a Vallombrosan monk some time before July 1460, when he is first recorded as "Don Diamante." The Vallombrosians belonged to a branch of the Benedictine Order, deriving their name from their abbey outside Florence: for their history see Louis Gauffier's View of the Abbey at Vallombrosa in this sale.
As well as working on collaborative projects with Lippi, Fra Diamante painted independent works in the style of his master. He is also known to have copied pictures by other Florentine Renaissance artists, namely Pesellino: Diamante's Madonna and Child in the National Gallery, London, is directly based on Pesellino's panel of circa 1450-57 in Esztergom, Christian Museum (inv. no. 55.187).1 Fra Diamante and Lippi worked together on numerous occasions, particularly towards the end of the latter's life, and Fra Diamante is known to have completed works by his master: one such collaborative project is the mural cycle dedicated to the Virgin in the apse of the cathedral of Santa Maria dell'Assunta in Spoleto.2 Lippi travelled to Spoleto in 1466 and moved there the following year with his son Filippino and with Fra Diamante. Following Lippi's death on October 10, 1469, Fra Diamante completed the frescoes in the cathedral and was appointed guardian of Lippi's son. As is exemplified by this panel, Fra Diamante's style is extremely close to that of his master and where documentary evidence is scarce there is often much debate concerning authorship. This painting was long considered to be by Lippi until Berenson correctly attributed it (according to the Catalogue of Italian Pictures from the Benson collection, under Literature). This is particulary evident in paintings belonging to Lippi's late phase - such as the Saint Francis gives the rule of the Third Order to the poor Clares, with Saints Louis of Toulouse and Stephen in Berlin, Gemäldegalerie, or The Adoration of the Infant Christ with Saints George and Vincent Ferrer in Prato, Galleria Comunale di Palazzo Pretorio - and in the rare works on paper that have been variously attributed to both masters.3
1. For Diamante's painting see Berenson, under Literature, reproduced vol. II, fig. 862. For Pesellino's see J. Reda, Fra Filippo Lippi. Life and Work with a Complete Catalogue, London 1993, p. 405, plate 241. 2. Reda, op. cit., pp. 473-77, cat. no. 66. 3. For the paintings see Reda, op. cit., pp. 471-73, cat. nos. 64 and 65, reproduced. For the drawings see, for example, The so-called 'Majordomo' of the Feast of Herod in Prato Cathedral in Florence, Uffizi, inv. no. 673Ev, or The Head of Mary in Florence, Uffizi, inv. no. 152E; ibid., pp. 497-98, cat. no. D7, and pp. 504-5, cat. no. DR5, both reproduced.