Luigi Fillia
Tweet
(
Revello
1904
-&nbsp
Torino
1936
)&nbsp-&nbsp
Artworks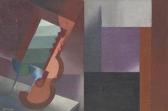 Christie's /
Jun 24, 2009
€28,772.01 - €40,280.82
Not Sold

Find artworks, auction results, sale prices and pictures of Luigi Fillia at auctions worldwide.
Go to the complete price list of works
Follow the artist with our email alert
Variants on Artist's name :
Fillia
Colombo Luigi
Along with Luigi Fillia, our clients also searched for the following authors:
Elemer Vagh-Weinmann
,
Renato Mambor
,
Fortunato Depero
,
Giorgio De Chirico
,
Giacomo Balla
,
Emilio Vedova
,
Pieter Ii Brueghel
,
Hermann Nitsch
,
Pablo Picasso
,
Cy Twombly
,
Andy Warhol
Some works of Luigi Fillia
Extracted between 38 works in the catalog of Arcadja
LA BIOGRAFIA DI Luigi Fillia
FILLIA , pseudonimo di Luigi Colombo, pittore, scultore e scrittore italiano, nasce a Revello (Cuneo) nel 1904.Nel 1923 insieme a Alpinolo Bracci e Pozzo fondò il movimento futurista torinese e i Sindacati artistici futuristi.
Contribuì alla teorizzazione del futurismo con manifesti e con vari periodici, da lui fondati e diretti, e scrisse testi poetici, romanzi, drammi.partecipò, nelle sezioni futuriste, alla Biennale di Venezia, dal 1926 al '34, alla Quadriennale di Roma del 1931 e del 1935.Nei suoi dipinti, è visibile il passaggio dal vivo cromatismo e dall'astrazione "meccanica" degli anni Venti alla visione fantastica dei primi anni Trenta.