Kano Eino
Tweet
(
1631
- &nbsp
1697
)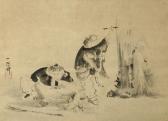 Bonhams
Nov 12, 2015
Some works of Kano Eino
Extracted between 2 works in the catalog of Arcadja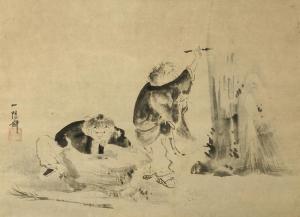 Original
Lot number:
203
Other WORKS AT AUCTION
Description
:
Kano Eino (1631-1697)

Mid/late 17th century

Kakejiku

(vertical hanging scroll), ink on paper, depicting the two eccentric monks Kanzan and Jittoku, the former standing with a brush and painting on the wall of a cave, his companion seated and grinding an ink stone; signed

Ichiyosai

with seal

Eino

.

Overall 121cm x 69cm (47 5/8in x 27 1/8in); image 52cm x 37.5cm (21in x 14 3/8in).

(2).

Footnotes

Kano Eino studied under his father Kano Sansetsu (1589-1651, whom he succeeded as third head of the Kyoto branch of the Kano family workshop which served the imperial and military elite throughout the Edo period (1615-1868). He is widely known as the author of the first history of Japanese painting,

Honcho gashi

written in circa 1678.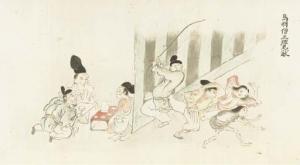 Original
Lot number:
224
Other WORKS AT AUCTION
Description
:
Kano Eino (1631-1697), Kano Eikei (1662-1702) and Kano Eihaku (1687-1764)
Paintings in the style of earlier Japanese masters
Sealed Eino, Kano uji, Eikei and Eihaku
Handscroll; ink and color on paper
11 x 359½in. (28 x 912.3cm.)
Lot Notes
Eino is a son of Kano Sansetsu and became the third-generation head of the Kyoto Kano school. Both Eikei and Eihaku are sons of Eino, and became the 4th and 5th heads of the Kyoto Kano school.