Youssef Dweik
Tweet
(
1963
)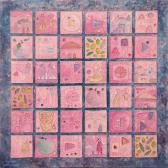 Some works of Youssef Dweik
Extracted between 1 works in the catalog of Arcadja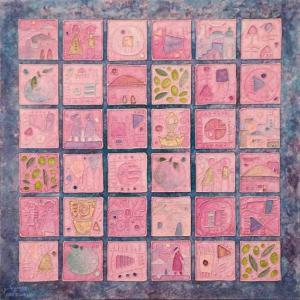 Original 2005
Lot number:
64
Other WORKS AT AUCTION
Description
:
064
Youssef
DWEiK
born 1963 -
Signed, Dated

61 X 61 cm.

Mixed Media on Canvas 2005
)

born in Jerusalem, Palestine and living in the UAE.

Since his graduation from AL-Yarmouk University (Jordan)
in 1985; he was passionate about portraying the progression of his country's forefathers through the ages

and proceeds to express his own personal feelings to the world around him in his paintings.

He uses symbols
that represent the spirit of the ancient Arabic history to tell his story giving the paintings a hidden depth for
those viewing them to unveil.
To achieve the balance between his commitment to telling his country's story and his desire to create beautiful

artworks, Dweik uses delicate combinations of soft colors and textures which create quiet harmony.

This
innovative technique has developed as a result of years of experimenting with different methods and raw
materials.
Each painting displayed depicts the effort, time and love the artist has invested in it.