Roger Duvoisin
Tweet
(
1904
- &nbsp
1980
)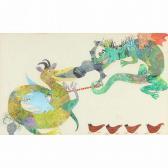 Some works of Roger Duvoisin
Extracted between 1 works in the catalog of Arcadja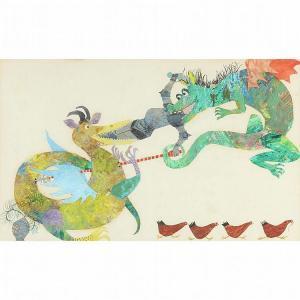 Original
Lot number:
305
Other WORKS AT AUCTION
Description
:
Lot 305: Roger Duvoisin (1904-1980), Untitled Illustration
mixed media collage on illustrator board, signed at lower right "Roger Duvoisin," charming illustrator scene with two dragons devouring a knight in shining armor while chickens march by below, matted and framed under glass, retaining an old typed sheet on the verso reading "This art originated in the United St(ates...) / Random House, Inc. / The value of each illustration is $360 (crossed out and with hand-written $600." SS 10.25 x 16 1/8 in.; DOA 15 x 20.75 in. Duvoisin was awarded the Caldecott Medal for "White Snow, Bright Snow," written by Alvin Tresselt (D. Lothrop Co., 1947). Descended through the Estate of Roger and Lulu Duvoisin, Gladstone, NJ
Tape residue to perimeter; some grime.