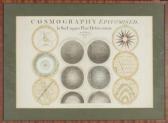 Some works of Samuel Dunn
Extracted between 1 works in the catalog of Arcadja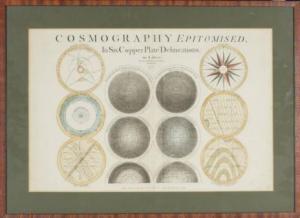 Original 1974
Lot number:
29
Other WORKS AT AUCTION
Description
:
Samuel Dunn

England död 1794. "Cosmography Epitomised, In Six Copper Plate Delineations. By S.Dunn teacher of mathematical sciences London 1786". Printed for Robt Sayer, No 53, Fleet Street, as the Act directs, 10 june, 1786. Kolorerat kopparstick, 37 x 55.
Möjligen del av planschverket "Tables of Time and Degrees, and hourly change of the Suns right Ascension' s". sh. quarto (London), 1786.
Ej examinerad ur ram. Smärre revor och fläckar. Förstärkt. Rammått 51,5 x 70.