Alex Dukelski
Tweet
(
1903
- &nbsp
1969
)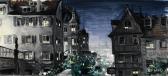 Bonhams
Jun 13, 2018
Find artworks, auction results, sale prices and pictures of Alex Dukelski at auctions worldwide.
Go to the complete price list of works
Follow the artist with our email alert
Variants on Artist's name :
Vernon Duke
Some works of Alex Dukelski
Extracted between 2 works in the catalog of Arcadja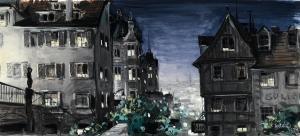 Original 1954
Lot number:
163
Other WORKS AT AUCTION
Description
:
An Alex Dukelski original concept painting from Rhapsody MGM, 1954. Gouache and watercolor, signed ("Dukelski / 1628") in the lower right-hand corner, matted and framed with a gold plaque inscribed, "Rhapsody / MGM 1954 / Concept Painting." Elizabeth Taylor is in a love triangle with Vittorio Gassman and John Ericson in the romantic setting of Zurich in this drama directed by Charles Vidor. The painting depicts a row of houses in Zurich and the distant city on a beautiful evening, where Taylor's love interest, Ericson, is studying the violin. Overall: 24 x 14.5 x 0.75 in.; within mat: 17 x 7.75 in.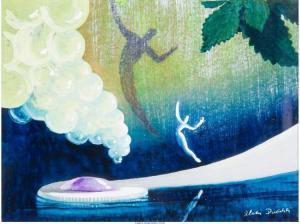 Original 1912
Lot number:
66209
Other WORKS AT AUCTION
Description
:
Alex Dukelski (Vernon Duke) (American, 1903-1969) Set Design Mixed media on paper 4-1/2 x 6 inches (11.4 x 15.2 cm) (sight) Signed lower right: Alexi Dukelski Alex Dukelski, aka Vernon Duke, was an acclaimed American composer/songwriter of the 1930s and 1940s. He was also an amateur artist, sketching numerous set designs for various theater projects throughout his career. HID04901242017