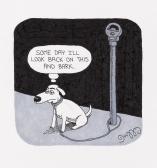 Swann Galleries
Mar 21, 2017
Some works of J.C. Duffy
Extracted between 3 works in the catalog of Arcadja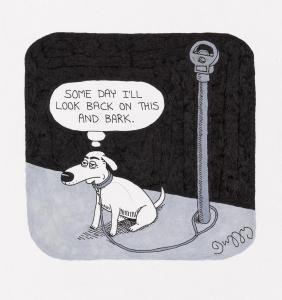 Original -
Lot number:
264
Other WORKS AT AUCTION
Description
:
Sale 2440 Lot 264 J.C. DUFFY. "Some day I'll look back on this and bark." Cartoon for The New Yorker, published March 3, 2014; later published as the cover of The New Yorker's Cartoons of the Year 2014, with their inventory label on verso. Pen, ink, and wash on paper. 121x127 mm; 4 3/4x5 inches, on 11x8 1/2-inch sheet. Signed "Duffy" in lower right image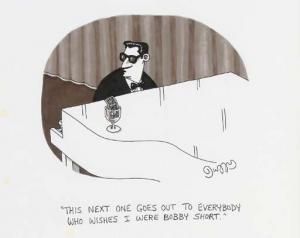 Original
Lot number:
86
Other WORKS AT AUCTION
Description
:
NEW YORKER MAGAZINE
J.C. Duffy (b. 1934)
This next one goes out to everybody who wishes I were Bobby Short
Signed Duffy (lower right)
ink and watercolour on paper
11x8¾in. (27.8x22.2cm.); accompanied by a typescript letter of authenticity on The New Yorker headed stationery, dated 15 August, 2001; and a page from The New Yorker magazine depicting the cartoon in an issue dated 20 & 27 August, 2001 (2)
Special Notice
This lot is offered without reserve.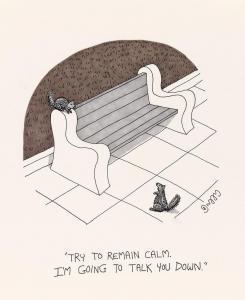 Original
Lot number:
265
Other WORKS AT AUCTION
Description
:
Sale 2440 Lot 265 J.C. DUFFY. "Try to remain calm. I'm going to talk you down." Cartoon for The New Yorker, published August 30, 2004, with their inventory label on verso. Pen, ink, and wash on paper. 191x159 mm; 7 1/2x6 1/4 inches, on 11x8 1/2-inch sheet. Signed "Duffy" in lower right image