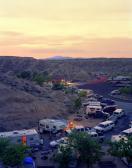 Some works of Thaddeus Dryja
Extracted between 1 works in the catalog of Arcadja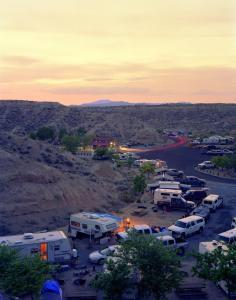 Original 2007
Lot number:
1416179
Other WORKS AT AUCTION
Description
:
Item No. 1416179 : Thaddeus Dryja, Untitled from
Tectonic, 2007 D3AB
Digital C print singed, numbered 1/7 in ink on the reverse.
1000 - 1500
Directly from the artist.
24 x 30"
Condition

In my photographic work, I seek to explore the limits of human
capabilities, such as the extent to which we control and re-shape
the world around us. While at times the work of humans seems
all-encompassing, such as in Manhattan, or a darkened movie
theater, in other places humanity's grip on power seems much more
tenuous. The TECTONIC series of photographs were taken on a solo,
cross-continent motorcycle trip in the summer of 2007, exploring
the diverse biomes across North America and the level of human
involvement in them.

Thaddeus Dryja was born in 1982 in Boston, Massachusetts. After
graduating from Milton Academy in 2000, he studied Electrical
Engineering at Carnegie Mellon University in Pittsburgh,
Pennsylvania. Graduating with a BS in Engineering in 2004, he lived
in Japan, teaching English and photographing extensively throughout
the country. He returned to the US in 2006, entering the School of
Visual Arts in New York City. After receiving his Masters in Fine
Arts in Photography in 2008, Thaddeus worked on a number of
projects combining his artistic sensibility and engineering skills.
He is currently living in Tokyo, Japan working as a commercial
photographer.

This photograph is in excellent condition. Payment must be received
within 10 days of end of auction. Tax will be charged to residents
of New York State or anyone that picks up in person. If you want to
make an appointment for pick up please contact
dan@danielcooneyfineart.com.