Douglas Cowper
Tweet
(
1817
- &nbsp
1839
)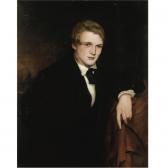 Sotheby's
Oct 3, 2007
Some works of Douglas Cowper
Extracted between 2 works in the catalog of Arcadja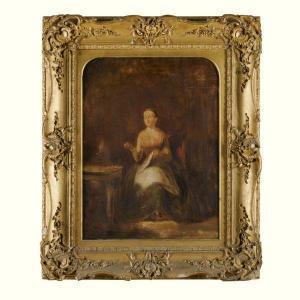 Original
Lot number:
676
Other WORKS AT AUCTION
Description
:
DOUGLAS COWPER
FL.1830-1850
THE DOLLS DRESS MAKER
400—800 GBP
50½ by 37½ in.; 20 by 15 in.
Description
indistinctly inscribed on the reverse;.... cricket on the /Hearth...Cowper?
oil on canvas
The picture illustrates Charles Dickens's story 'The Cricket onthe Hearth', published in 1846. The Dolls Dress Maker is Bertha,the daughter of Caleb Plummer, a toy maker. It can be nocoincidence that the author was a close friend of the 6th Duke.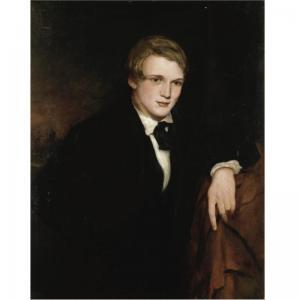 Attributed
Lot number:
58
Other WORKS AT AUCTION
Description
:
PROVENANCE

Raymond Ewart Kemsley Esq.;
Thence by decent to Raymond Crosby Cook;
Thence by decent to the present owner

CATALOGUE NOTE

Born in Gibraltar, Douglas Cowper was the fourth son of William Cowper, a Gibraltar-born merchant, and his English-born wife, Isabella née Douglas. The Cowper family moved to Guernsey where they settled but Douglas who was keen to pursue his interest in art, moved to London aged 17 to study at Henry Sass's Drawing Academy before continuing his education at the Royal Academy Schools. It was however at Sass's Academy that he became great friends with William Powell Frith who in his autobiography describes Cowper as
"a fair, handsome, delicate youth who possessed powers which",
had he not died of tuberculosis at 22 years of age
"would have speedily placed him in the first rank of his profession."
(Vol. I, p. 44). In his short life as an artist he exhibited pictures at the Royal Academy, the British Institution and at the Society of British Artists in Suffolk Street.

Frith continues to highlight that Cowper's "
matchless application, his delight even in the driest parts of his training, and the rapidity of his improvement, were matters of envy and astonishment to all of us. He was the master's favourite pupil, and often held up to us in his presence as an example."
(Vol. I, pp. 44-5) Frith further recollected that during the period that the two young artists were both studying at the Life Academy,
"he [Cowper] was far in advance of me in every way"
(Vol. I, p. 63) extending further acclaim on his young friend. It is possible that the current picture dates to circa 1836-8, as during this period Cowper was undertaking a full length portrait of Frith which was greatly admired by both Sass and the sitter as beautifully painted and faithfully observed. Interestingly, the current picture bears remarkable similarities to the frontispiece to Vol. III of Frith's autobiography.