Fíel Dos Santos
Tweet
(
1972
)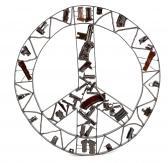 Some works of Fíel Dos Santos
Extracted between 1 works in the catalog of Arcadja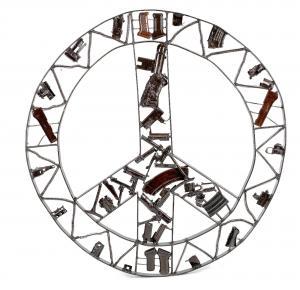 Original
Lot number:
24
Other WORKS AT AUCTION
Description
:
Fíel dos Santos (Mozambican, born 1972)

'Circle of Life'

decommissioned weapons welded with metal

114 x 109 x 4cm (4 7/8 x 42 15/16 x 1 9/16in).

Footnotes

Fiel dos Santos began his artistic career as a draughtsman. Since then, he has experimented with a variety of media including ceramics and metalwork.

After the Mozambican Civil War (1976-1992), dos Santos joined the project Transforming Arms into Tools. This was an initiative launched by Bishop Dom Dinis Sengulane in 1995 as a way of reducing the threat of weapons stockpiled and hidden during the conflict. Mozambicans were encouraged to hand over their weapons in exchange for objects such as ploughs, bicycles and sewing machines. These weapons were then transformed by artists into sculptures.

Circle of life

demonstrates the success the of the scheme. The transformation of objects of destruction into art suggests the resilience of Mozambique's civilians and their hope for the future.

We are grateful to Claudia Bentel and Luke Crossley from David Krut Fine Art, Johannesburg, for their assistance with this catalogue entry.