Marion Dorn
Tweet
(
1896
- &nbsp
1964
)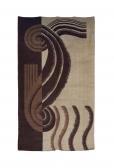 Christie's /
Oct 1, 2013
€12,000.00 - €18,000.00
€20,000.00

Some works of Marion Dorn
Extracted between 3 works in the catalog of Arcadja

Original 1938
Lot number:
120
Other WORKS AT AUCTION
Description
:
120

Marion Dorn, 1896-1964

WILTON RUG

Signed Dorn in the weave

wool, the flatwoven field with the design worked in pile

414 by 142cm., 13ft 7in. by 4ft 8in.

Executed circa 1935-1938.

GBP

Print

The colour is slightly more of a raspberry and less orange than on the catalogue illustration. Generally worn, superficially dirty and slightly stained. Foundation threads visible in three areas to the longer edge opposite the signature. Some restorations at short end opposite signature. Carpet would benefit from a clean.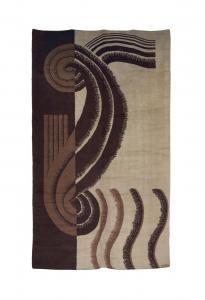 Original 1932
Lot number:
251
Other WORKS AT AUCTION
Description
:
MARION DORN (1896-1964)

TAPIS RECTANGULAIRE, RÉALISÉ PAR LA MANUFACTURE ROYAL WILTON, 1932

En laine au point noué, à décor de vagues et vaguelettes stylisées marron et beige sur un fond couleur ivoire

435 x 255 cm. (171¼ x 100 3/8 in.)

Signé DORN dans un angle
Madame Solomon, commanditaire d'origine pour son salon de musique en 1932, Holland Park, Londres.
Artiste américaine, Marion Dorn s'installe en Angleterre dans les années 20. Elle se fait d'abord remarquer pour ses créations de batik avant d'entamer une brillante carrière dans le tapis moderne noué main. Tout au long des années 30, elle dessine pour la Royal Wilton Carpet Factory et réalise des commandes privées de clients prestigieux tels Noël Coward et Syrie Maugham. C'est elle aussi qui exécute les tapis de l'Hôtel Savoy, du Eltham Palace et du Transatlantique 'Queen Mary'. Ses créations sont présentées à l'Exposition Universelle de Paris et au Metropolitan de New York en 1937, ainsi qu'à la Golden Gate International Exhibition de San Francisco en 1939. Son travail est présent dans de nombreuses institutions internationales.

American-born graphic artist Dorn relocated in Britain during the 1920s and immediately attracted attention for batik to designs, before embarking on a highly successful career as a designer of exceptional hand-knotted Modernist carpets. Throughout the 1930s Dorn produced designs for the Royal Wilton Carpet Factory, in addition to securing private commisions for prestigious clients that included Nöel Coward and Syrie Maugham. Other commissions during the 1930s included carpets designed for the Savoy Hotel, Eltham Palace, and the transatlantic liner, the Queen Mary. Examples of Dorn's designs were exhibited at the Exposition Universelle, Paris, and New York's Metropolitan Museum of Art, both in 1937, and the Golden Gate International Exhibition, San Francisco, 1939. Her work is represented in numerous international institutions.
C. Boydell, The architect of floors: modernism, art and Marion Dorn designs, Essex, 1996, p. 45, pl. 40
A RECTANGULAR WOOL CARPET BY MARION DORN, MANUFACTURED BY ROYAL WILTON, 1932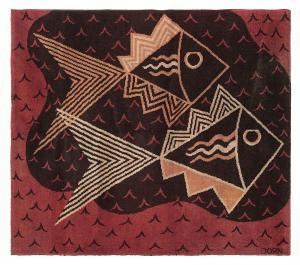 Original 1930
Lot number:
75
Other WORKS AT AUCTION
Description
:
MARION DORN (1896-1964)
MODERNIST RUG, CIRCA 1930
woven by the Royal Wilton Carpet Factory, hand-knotted wool
77½ in. (197 cm.) x 68 in. (173 cm.)
signed in weave DORN
Gifted by the designer to British artist Frank Dobson R.A. (1888-1963), thence by descent.