John Dorival
Tweet
XIX Century -&nbsp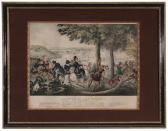 Some works of John Dorival
Extracted between 1 works in the catalog of Arcadja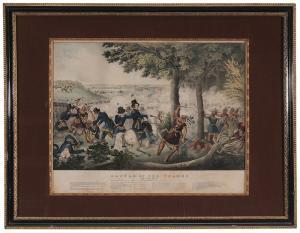 Original
Lot number:
105
Other WORKS AT AUCTION
Description
:
John Dorival
(American, 19th century) Battle of the Thames, 5th Oct. 1813, published circa 1833 by Ed Weber Baltimore, hand-colored lithograph with gum arabic on paper, 17-7/8 x 21-7/8 (sheet); gilt and black lacquered frame,
extensive restoration, chipping and losses to edges, remnants of linen hinge tape verso, loss to one corner, toning, pencil inscriptions in margins, foxing, retouch; frame with chips and abrasions
Lot Notes: Print shows American forces fighting Tecumseh's Indian confederation. In the center Col. R. M. Johnson shoots Tecumseh who has raised his tomahawk. A legend at the bottom describes the men pictured and describes of their role in the battle. Issued to promote Richard mentor Johnson's campaign for vice-presidency by depicting him as the slayer of Tecumseh.