Arthur N. Disney
Tweet
United States
(
1903
- &nbsp
1993
)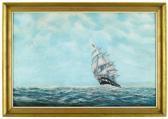 Find artworks, auction results, sale prices and pictures of Arthur N. Disney at auctions worldwide.
Go to the complete price list of works
Follow the artist with our email alert
Variants on Artist's name :
Arthur N. Disney, Sr.
Some works of Arthur N. Disney
Extracted between 1 works in the catalog of Arcadja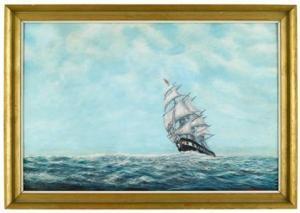 Original
Lot number:
574
Other WORKS AT AUCTION
Description
:
Lot 574

Arthur N. Disney, Sr. (1904-1993)

u.s. frigate "constellation"

Signed lower right, "Arthur N. Disney," oil on board, framed. Hand-written curatorial account number and art card number from "Navdept" on verso.

23 in. x 35 in. (sight)

Estimate $400-600

Arthur N. Disney, Sr. loaned his paintings of the Constellation and other battleships to the White House, Pentagon and Navy Department. He allowed his paintings of the Constellation to be reproduced on the ship's souvenirs from which all sale proceeds go directly to the conservation of the ship.

Lot is accompanied by five postcards from the U.S.F. Constellation featuring Disney's art.

Descriptions provided in both printed and on-line catalogue formats do not include condition reports. The absence of a condition statement does not imply that the lot is in perfect condition or completely free from wear and tear, imperfections or the effects of aging. Interested bidders are strongly encouraged to request a condition report on any lots upon which they intend to bid, prior to placing a bid. All transactions are governed by Freeman's Conditions of Sale.