Francesco Di Neri Da Volterra
Tweet
(
1310
- &nbsp
1375
)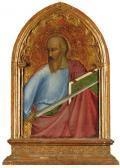 Find artworks, auction results, sale prices and pictures of Francesco Di Neri Da Volterra at auctions worldwide.
Go to the complete price list of works
Follow the artist with our email alert
Variants on Artist's name :
Volterra Da Francesco
Some works of Francesco Di Neri Da Volterra
Extracted between 1 works in the catalog of Arcadja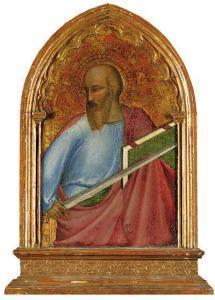 Original
Lot number:
119
Other WORKS AT AUCTION
Description
:
Saint Paul and Saint Andrew: pinnacles from an altarpiece
Saint Paul and Saint Andrew: pinnacles from an altarpiece
tempera on gold ground panel, shaped top
15¼ x 9¼in. (38.5 x 23.6cm.);
and 15 x 9¼in. (38 x 23.6cm.)
In later engaged frames
Provenance
A. Whitcombe, Cheltenham; Christie's, 11 March 1911, lot 42, asSienese School (20gns. to Carfax).
Anon. Sale, Mak van Waay, Amsterdam, 18 May 1965, lot140.
Lot Notes
Active in Pisa, Francesco di Neri's was strongly influenced bySimone Martini and his Pisan followers, including Tadeo Gaddi. Hisearliest recorded picture (now lost) was executed in 1343 for theChurch of San Michele in Borgo, Pisa. In the 1360s and 1370s, thestyle of the artist became less graphic than in his early work andis characterized by greater volume in the drapery and a strongchiaroscuro in the depiction of the faces. The present picturesprobably date from this period and can be compared with four Bustsof Prophets by the artist, in the Boston Museum of Fine Arts (seeL. Bellosi, Buffalmacco e il Trionfo della Morte, Turin, 1974, pls.214-5). The leading role that Francesco di Neri played in Pisa isillustrated by his stylistic influence on his compatriots, forexample, Jacopo di Michele and Cecco di Pietro. Roberto Longhi wasthe first art historian this century to recognize the high qualityof Francesco di Neri's work (Frammento siciliano, Paragone, IV,1953, pp. 7-8).
We are grateful to Professor Miklós Boskovits for suggesting theattribution.