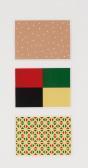 Some works of Elke Denda
Extracted between 1 works in the catalog of Arcadja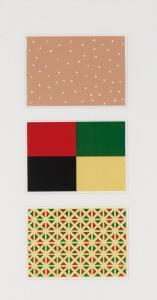 Original 1988
Lot number:
743
Other WORKS AT AUCTION
Description
:
Author :
Denda, Elke
1956 Oberhausen
titolo :
Four assembled colour serigraphs.
description :
a-c) Untitled. 1988. On coloured paper (red, yellow, fou-coloured). 30 x 21cm each. Trial proof. Verso signed, dated, and inscribed. In one frame. - The red paper strongly faded, the yellow paper lightly faded. All serigraphs mounted on corners. d) Untitled. 1986. On thin card. 27,5 x 38cm (30 x 40cm). Number
11 of an edition of 20. Verso signed, dated, and numbered. Framed. Verso with remains of former mounting on the lower edge. All serigraphs otherwise in good condition.