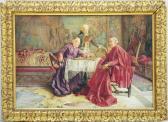 Il Ponte Casa D'aste Srl
Jul 9, 2013
Some works of Tito Della Fralte
Extracted between 3 works in the catalog of Arcadja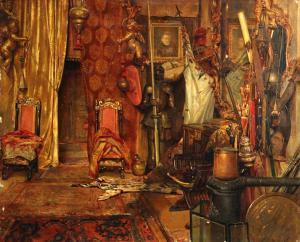 Original 1913
Lot number:
4011
Other WORKS AT AUCTION
Description
:
Property of various owners
Tito Della Fralte (20th Century)

The interior of the Paris studio of Giuseppe Signorini

signed, inscribed and dated 'Tito delle Fralte / 1913 / Interno delle studio / Pio. C. del Giuseppe Signorini / Parigi' (lower right)

oil on canvas

19 1/2 x 24 1/4in

Giuseppe Signorini (1857-1932) was a watercolorist of genre and Orientalist subjects. He lived for many years in Paris and exhibited at the

Salon

, winning the Grand Prix for Watercolors in 1913 for

La mercante di frutta

.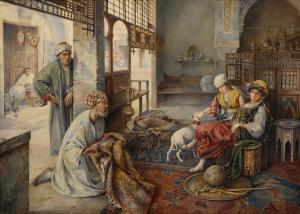 Original
Lot number:
89
Other WORKS AT AUCTION
Description
:
Tito Della Fralte (20th Century)

At the rug seller's shop

signed and inscribed 'Tito delle Fralte Roma' (lower right)

watercolor over pencil heightened with gum arabic

21 1/2 x 29 1/2in (54.6 x 74.9cm)