George Orleans Delamotte
Tweet
XIX Century -&nbsp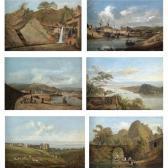 Sotheby's
Jun 6, 2007
Some works of George Orleans Delamotte
Extracted between 2 works in the catalog of Arcadja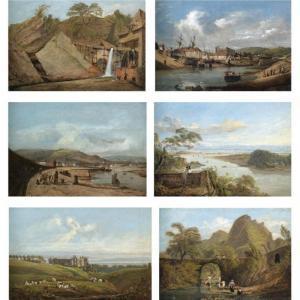 Original 1820
Lot number:
77
Other WORKS AT AUCTION
Description
:
GEORGE ORLEANS DELAMOTTE (XIX) - VARIOUS PROPERTIES

ABERDYLLIS MILL, YALE OF NEATH; SWANSEA FERRY, GLAMORGANSHIRE; SWANSEA FROM THE WESTERN PIER; THE MOUTH OF THE NEATH RIVER FROM BRITONFERRY; ST DONAT'S CASTLE, GLAMORGANSHIRE; DYNAS ROCK AND BRIDGE, VALE OF NEATH -
Mis: each 18 by 27 cm., 7¼ by 10½ in.
A set of six, each signed, inscribed and dated 1820 on the reverse oil on board Quantity: 6

PROVENANCE
John Edwards, Rheola, Neath

CATALOGUE NOTE
George Delamotte was the brother of William Delamotte. He worked at Sandhurst, Reading and London as a drawing master and exhibited at the Royal Academy in 1809. He published a series of prints of landscapes in the Neath Valley.
Delamotte is predominantly known for his works on paper, and these paintings are his only known signed works in oil. A number of the artist's sketchbooks survive which show that the present oil paintings are all based on previous sketches (see Bernard Morris, George Delamotte's South Wales SKetchbook, forthcoming publication).
This fascinating set of landscapes was owned by John Edwards who lived at Rheola, a house in the Neath Valley designed by his cousin, John Nash. He served as M.P. for Glamorgan 1818-20 and was later M.P. for Wells 1830-32. He also served as High Sheriff of Glamorgan.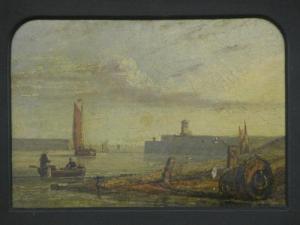 Original
Lot number:
9
Other WORKS AT AUCTION
Description
:
GEORGE ORLEANS DELAMONTTE (BRITISH, EARLY 19TH CENTURY),
"Swansea Pier, 1816", oils on board. 5" x 7".