Olfert De Vrij
Tweet
(
Hoorn
1635
- &nbsp
1699
)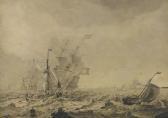 Sotheby's
Jan 29, 2016
Some works of Olfert De Vrij
Extracted between 2 works in the catalog of Arcadja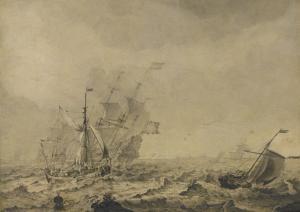 Original -
Lot number:
477
Other WORKS AT AUCTION
Description
:
Olfert de Vrij
HOORN 1635-1699
MEN-O'-WAR AND OTHER VESSELS IN A STIFF BREEZE BEFORE A COAST
signed on a barrel lower left: ODRVY
oil on panel, en grisaille
12 by 16 7/8 in.; 30.5 by 42.8 cm.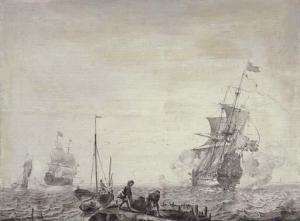 Attributed
Lot number:
110
Other WORKS AT AUCTION
Description
:
Attributed to Olfert de Vrij (Hoorn 1635-1699)

Men-o'-war and other vessels in a stiff breeze before a coast,
young men carrying a basket in the foreground: 'en grisaille'

brush and black ink, grey wash on panel and black framing
lines

28.2 x 37.3 cm.

with a collector's wax seal on the reverse
Provenance
In the family of the present owner since 1870.
Lot Notes
Hitherto only two works, both grisailles, by De Vrij are known:
one a signed and dated '1665' panel in the Gemäldegalerie, Berlin;
the other signed and on panel, with Haboldt & Co, Paris,
2000-1. The composition in Berlin shows strong similarities with
the present lot. The man-o'-war to the right is in both paintings
depicted from the same angle, as well as the roughness of the sea
is handled in a similar way.

Olfert de Vrij belonged to the elite of Hoorn and was active in
local government. He practised painting only as a hobby since he is
not documented in any record as an artist. Like his contemporaries
from Hoorn, Caspar van den Bos and Pieter Coopse, he distinguished
himself from the other so called 'penschilders' by his use of a
fine brush instead of a pen. The present lot should thus not be
regarded as a 'penschilderij', but as a grisaille painting. This
unusal technique, working with different shades of grey, like in
watercolour, is typical for the artists from Hoorn.

In May 1662, Ludolf Backhuysen rented a house in the harbour
quarter in Hoorn, just a few doors from De Vrij (see J.R. Brozius,
'Marineschilder Ludolf Bakhuysen in Hoorn', Oud Hoorn, XV, 1993, 4,
pp. 139-41). In 1667, he is recorded again in Hoorn and in 1680
both De Vrij and Melchior d'Hondecoeter were asked to be guardians
of Backhuysen's daughter. It has been speculated that a
master-pupil relationship ensued, however, it is clear that De Vrij
was inspired not only by Backhuysen but also by Willem van de Velde
II.

We are grateful to Mr. John Brozius for suggesting the attribution
to the artist on the basis of a photograph, and for his help in
cataloguing this lot (written communication, 2 October 2006). We
also wish to thank Dr. Jeroen Giltaij and Dr. Friso Lammertse for
confirming the attribution on the basis of a photograph (verbal
communication, 2 October 2006).