Paul Jan Wildens De Vos
Tweet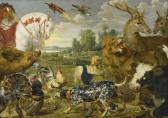 Some works of Paul Jan Wildens De Vos
Extracted between 1 works in the catalog of Arcadja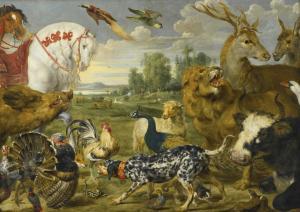 Original -
Lot number:
30
Other WORKS AT AUCTION
Description
:
Paul de Vos, Jan Wildens

HULST 1591/2 OR 1595 - 1678 ANTWERP

THE GARDEN OF EDEN

branded on the stretcher with a crest from an as-yet unidentified Marquess (fig.1).

oil on canvas

65 3/4 by 92 in.; 167 by 234 cm.

Read Condition Report Read Condition Report

Register or Log-in to view condition report

Saleroom Notice

Provenance

Believed to have been bought from Sir Joseph Duveen by the family of the previous owner circa 1896;

By whom anonymously sold, London, Sotheby's, 3 July 1991, lot 82;

There purchased by the present owner.

Catalogue Note
Paul de Vos painted several pictures depicting the theme of the Garden of Eden, examples of which are located in the Musée du Louvre (inv. 1844) and the Kunsthistorisches Museum, Vienna (inv. 1709). The present canvas was mentioned as the autograph version when another example was offered at Christie\'\'\'\'s Amsterdam, 6 May 2008, lot 179. It seems likely that de Vos worked on the majority of these at about the same time and then passed them on to his brother-in-law, Jan Wildens, for the completion of the landscape backgrounds. In style, they are all extremely close to de Vos' work for the Spanish court in the Torre de la Parada, dating from circa 1636 (see S. Alpers Corpus Rubenianum, The Decoration of the Torre De La Parada, 1971, pp. 119-21) and thus may date from the same period. Arnout Balis, who offered his opinions at the time of the 1991 sale (see Provenance), then pointed out that the lion which recurs in all the paintings in this group is inspired by Rubens\'\'\'\' rendering of the same animal in his 1624 The Meeting of Marie de' Medici and Henry IV at Lyons for the Medici cycle (Musée du Louvre), thus providing a terminus post quem for the present picture. Moreover, the extremely elegant white horse on the left of the present picture, with its long mane in the Spanish fashion, pink ribbons and elaborate saddle of a kind often found in Spanish equestrian portraits, is a direct quotation from the Equestrian portrait of Philip IV of circa 1630 in the Nationalmuseum, Stockholm (inv. 762). Balis believes that work to be a collaborative venture by Cornelis de Vos (Philip IV) and Paul de Vos (the horse).