Michel De Tarnowsky
Tweet
(
1870
- &nbsp
1946
)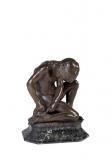 Millon & Associés
Feb 13, 2019
Some works of Michel De Tarnowsky
Extracted between 3 works in the catalog of Arcadja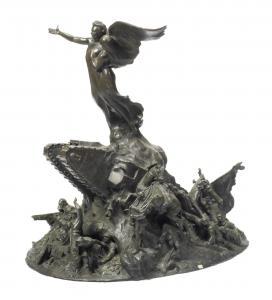 Original 1917
Lot number:
109
Other WORKS AT AUCTION
Description
:
Michel de Tarnowsky (French 1870-1946)

The Spirit of Humanity

Memorial maquette.

Depicting the Battle of Cambrai, 1917, the first occasion where tanks were effectively used in Battle. The lost wax maquette shows a British Mark IV tank rising through the mud, surmounted by a winged figure of Progress and surrounded by vignettes of British and French Troops including Machine Gunners, Grenadiers, Standard Bearers, mounted Troops and Pack Horses, and Observer and a Piper of the Seaforth Highlanders.

Signed and dated, bearing the Foundry mark of Messrs. Montaguielli.

23x20x23ins(58x51x58cm)

Footnotes

This piece, also known as

The Triumph of Humanity

was sculpted by de Tarnowsky in Paris in 1920. The original intention was to erect a 50ft.(16metre) bronze memorial in London to commemorate Franco-British co-operation during the War. An edition of 20 maquette bronzes, of which this is number 3, was envisaged to raise funds for final memorial, and these were to be sold at 100 guineas each. One was exhibited at the Royal Automobile Club in Pall Mall in November 1920, but only three are known to survive. In the final event, the full sized memorial was never commissioned. An example of this maquette is on display at the National Army Museum, and a further example at the Tank Museum at Fort Bovington, Dorset.

The Battle of Cambrai November/December 1917

Following the failure of British Tanks to progress through the thick mud of Passchendaele, Colonel Fuller, Chief of Staff of the Tank Corps, suggested an attack on the Hindenburg Line west of Cambrai. The chosen terrain, rolling chalk downland, was ideal for tank movements. 325 tanks took part in the action, supporting 19 British Infantry and 5 Cavalry Divisions. The attack, on November 20th came as a complete surprise to the Germans and the tanks ripped through the German lines with 7,500 enemy troops captured. After an advance of about six miles, the Germans counter-attacked and finally drove the Allies back almost to their starting position. However, it had clearly demonstrated the effectiveness of the tank in modern warfare.