Jesse De Martino
Tweet
XX-XXI Century -&nbsp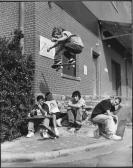 Some works of Jesse De Martino
Extracted between 1 works in the catalog of Arcadja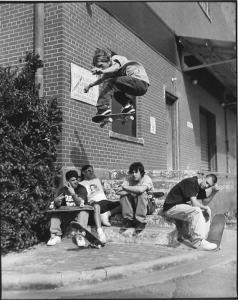 Original 1996
Lot number:
1386378
Other WORKS AT AUCTION
Description
:
Item No. 1386378 : Jesse De Martino, Skaters, 1996
D2WD
Gelatin silver print, signed, dated, annotated on the reverse,
printed 2002.
300 - 500
Directly from the artist to the current owner.
11 1/2 x 9 1/2" image on 14 x 11" paper.
Condition

This photograph is in excellent condition. Please feel free to
contact us regarding specific questions or condition report.
Payment must be received within 10 days of end of auction. Shipping
for books will be significantly less expensive than shipping for
artwork. The following estimated shipping and handling charges
apply to unframed photographs. Framed photographs will cost more to
ship, please contact dan@danielcooneyfineart.com for an estimate.
Tax will be charged to residents of New York State or anyone that
picks up in person. If you want to make an appointment for pick up
please contact dan@danielcooneyfineart.com. Please remember to
include the mat or mount size of the photograph when estimating
shipping. If you prefer we can ship the artwork without mat or
frame. To ensure safety, all packages are shipped in reuseable
"Masterpak" print pads or strongboxes. This is why shipping may
seem to be expensive. The following estimates include $1000.
insurance and UPS Third Day Select Delivery. 17 x 22" or less:
$65.00 ; 24 x 34" or less: $85.00 ; 30 x 36" or less: $95.00 ; 32 x
45" or less: $115.00. Frames are not guaranteed.