Farfan De Los Godos Y Miranda
Tweet
? Century -&nbsp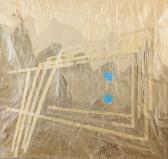 Sant'Agostino
Oct 28, 2013
Some works of Farfan De Los Godos Y Miranda
Extracted between 3 works in the catalog of Arcadja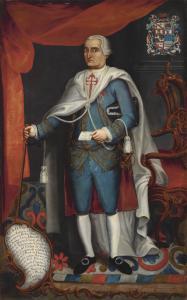 Original
Lot number:
23
Other WORKS AT AUCTION
Description
:
Joseph Mariano Farfán de los Godos y Miranda (18th Century)

RETRATO DEL MARQUÉS DEL JARAL DE BERRIO, CONDE DE SAN MATEO DE VALPARAISO

signed lower left oil on canvas 83 1/2 by 48 in. 212 by 122 cm

Provenance

Galería La Cartuja, Mexico City Private Collection, Mexico

Catalogue Note

This painting may be considered an artistic monument of Mexico and, if so, could not be exported without the approval of the Instituto Nacional de Antropología e Historia (INAH). Accordingly, it is offered for sale in New York from the catalogue and will not be available in New York for inspection or delivery. The painting will be released to the purchaser in Mexico in compliance with all local requirements. Prospective buyers may contact Sotheby's representatives in Mexico City and Monterrey for an appointment to view the work.