Juan De Dios Vicente De La Cerda
Tweet
Mexico
XVIII Century -&nbsp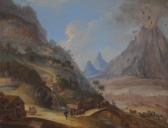 Some works of Juan De Dios Vicente De La Cerda
Extracted between 1 works in the catalog of Arcadja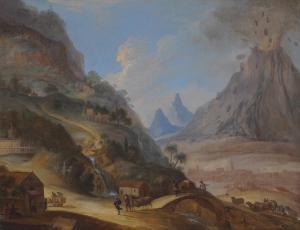 Attributed 1798
Lot number:
91
Other WORKS AT AUCTION
Description
:
Attributed to Juan de Dios Vicente de la Cerda (Mexican late 18th Century)
Vista de Antigua con el volcán Fuego (Guatemala)
inscribed 'Guatimala' (lower left)
oil on canvas
36 x 48 in. (91 x 122 cm.)
Painted ca. 1795-1798
Provenance
Rafael Valls Gallery, London.
Caylus Gallery, Madrid.
Lot Notes
The Real Expedición Botánica a Nueva España (1787-1803) was an expedition led by Martín de Sessé y Lacasta (1751-1808) with the Mexican scientist José Mariano Mociño (1757-1820) which covered the territories of modern Mexico and western United States, Guatemala, and areas north to Vancouver Island. The Sessé-Mociño expedition began 16 years prior to Alexander von Humboldt's arrival to Mexico in 1803. The expedition gathered information about the natural world and two important manuscripts, "Flora Mexicana" and "Plantae Novae Hispaniae," were published in the latter part of the 19th century. Artists attached to the expedition included Atanasio Echeverría y Godoy, Juan de Dios Vicente de la Cerda, José Guio, and Pedro Oliver.
This painting depicts the eruption of the volcano Fuego in Antigua, Guatemala, an area which was visited by Mociño and De la Cerda towards the end of the expedition. Recorded eruptions date back to 1581 and an eruption is noted for the year 1799. The volcano is still active.