Anna De Frey
Tweet
(
1768
- &nbsp
1808
)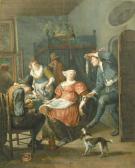 Christie's
Sep 28, 2000
Some works of Anna De Frey
Extracted between 3 works in the catalog of Arcadja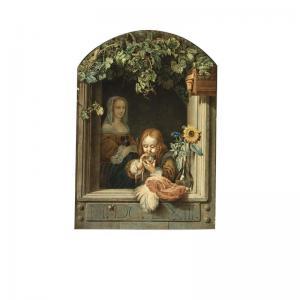 Original
Lot number:
151
Other WORKS AT AUCTION
Description
:
signed in brown ink,
verso
:
A. de Freij f: na F: van Mieris
and bears old numbering,
verso
:
30.
Bears a copy of the signature on the mount.

watercolour

CATALOGUE NOTE

This drawing is a copy after a painting by Frans van Mieris, dated 1663, in the Mauritshuis, The Hague (inv. no. 106).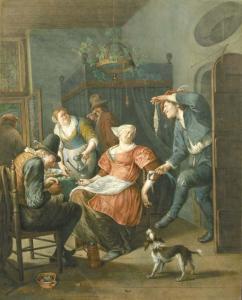 Original
Lot number:
322
Other WORKS AT AUCTION
Description
:
Anna de Freij (c. 1775-1808)
Merry folk by a table in an interior, after Jan Steen
signed Anna de Frey f
pencil, watercolour, black ink framing lines
545 x 443 mm.
Lot Notes
Together with her brother Johannes Pieter de Frey (1770-1834), Anna de Frey was taught by her brother-in-law Jacobus Johannes Lauwers (1753-1800), who was married to their sister Maria de Frey. Like their master, Anna and Johannes are known to have made a number of drawn copies after old master pictures and seem to have painted little or not at all. The present scene was copied after Jan Steen's picture of circa 1664-8, now in the Musées Royaux des Beaux Arts, Brussels. Steen's picture is known to have been sold from the Neuhoff collection at auction in Amsterdam on 14 April 1777 where it was acquired by the dealer and publisher Fouquet, presumably for a French collection. It subsequently appeared at auction in Paris on 4 December 1786, and in the Van Maaseveen auction in Amsterdam on 28 October 1793. Therefore the terminus post quem of the present watercolour would seem to be 1793. The scene is traditionally entitled The galant proposal. A young man is entering the interior of what seems to be a brothel, sticking out his tongue to the woman seated at the table in the centre. He is showing her a herring or a bloater, holding garlic in his other hand. These are traditionally known as erotical symbols, referring to the bed with the open curtains in the corner.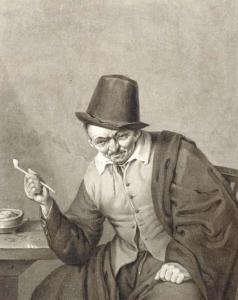 Original
Lot number:
204
Other WORKS AT AUCTION
Description
:
ANNA DE FREY (Amsterdam ca. 1750-1808 Mannheim)
A peasant holding a pipe
inscribed 'Anna de Frëy F:na A: van Ostade' and 'no. 59' (on thereverse)
grey-brown wash
7½ x 6 in. (190 x 154 mm.)
Special Notice
This lot is offered without reserve.