Joes Claudius De Cock
Tweet
Some works of Joes Claudius De Cock
Extracted between 1 works in the catalog of Arcadja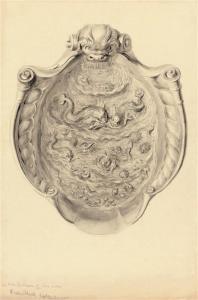 Original
Lot number:
391
Other WORKS AT AUCTION
Description
:
Joes Claudius de Cock (fl. 1726-1748)
An album of watercolours of silver designed by the van Vianen family of Utrecht, including five drawings of silver by Albert Rosenthal
one inscribed in pencil by a different hand 'at the Bottom of the sea/Rosenthal collection' (lower left)
pen and black ink and wash
13 3/8 x 9 in. (34 x 22.9 cm.) and smaller
Provenance
Albert Rosenthal.
Lot Notes
The beautifully ornate silver depicted in these pictures was created by the van Vianen family of Utrecht in the late 16th and early 17th century.