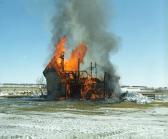 Some works of Adrienne De Boer
Extracted between 1 works in the catalog of Arcadja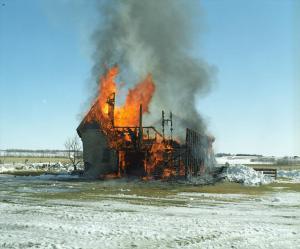 Original 2007
Lot number:
1251512
Other WORKS AT AUCTION
Description
:
Item No. 1251512 : Adrienne De Boer, Burning of the
Barn, 2007 E1DA
Chromogenic print, signed, numbered "1/5" on reverse in ink.
500 - 1000
Directly from the artist.
16 x 20"
Condition

The Preservation of Fleeting Moments A Photographic Essay by
Adrienne DeBoer My artistic vision stems from a compulsion to
preserve memories. Captured in the landscapes of South Dakota,
these images represent an adult reconfiguration from childhood,
permitting perceptions to be formed through nostalgia, cynicism,
and reality. The barren landscapes and pristine prairies of the
Midwest divide the living and the desolate. Pulverized by time,
these photographs form a collection of memories and narratives that
exist within each inch of the ground, reflecting a history of
recollections and imprints that is hard to define.

Most of the photographs originate from what I believe to be a
subtle truth, embroidered with an undertone of darkness and humor.
This series is an investigation of rituals juxtaposed with the
traditional American vernacular. The effect is the visual
transformation of a mundane environment into a theater.

I am exploring monotonous moments and creating bizarre characters
that seem to have been dropped off somewhere between the farm and a
pseudo city, leaving their minds and any sense of reality far in
the distance. The people in South Dakota are more fucked up than
you think.

May 2007 Bachelor of Fine Arts Degree, Photography School of Visual
Arts New York, NY May 2003 Brookings High School Graduate COURSE
WORK Black and White/Color Printing Digital Photography/Website
Design WORK EXPERIENCE December 2008-Present Accounting Assistant
Walker Art Center June 2007-December 2008 Accounting Administrator
The Chambers Hotel October 2003-May 2007 Office Assistant Bellevue
Educare Child Care Center Summer 2006 Teacher?s Assistant Pre
College Program School of Visual Arts, Black and White Printing
August 2004-2006 Resident Assistant George Washington, School of
Visual Arts 2002-Present Freelance Photography Wedding/Engagement
Photographer Alvin Booth Photography Digital scanning/retouching
Color Corrections Merchant Design Website Photographer Photographed
community events and architecture of Brookings, South Dakota
TECHNICAL SKILLS Photoshop CS, Mac/PC proficient: MS Word, MS
Excel, PowerPoint, 35 mm, Medium and Large Format SHOWS The
Preservation of Fleeting Moments Nemo Gallery Portland, Oregon
Preserving South Dakota Minnesota Center for Photography
Minneapolis, Minnesota GROUP SHOWS Mentors Mentor: Jen Beckman, Jen
Beckman Gallery Visual Arts Gallery 601 West 26th Street, 15th
Floor, New York, NY 10001 AWARDS The School of Visual Arts Rhodes
Family Award Outstanding Achievement in Photography Graduation
2007

This photograph is in excellent condition.

Payment must be received within 10 days of end of auction. Tax will
be charged to residents of New York State or anyone that picks up
in person. If you want to make an appointment for pick up please
contact dan@danielcooneyfineart.com. To ensure safety, all packages
are shipped in reuseable "Masterpak" print pads or strongboxes.
This is why shipping may seem to be expensive. The following
estimates include $1000. insurance and UPS Third Day Select
Delivery. 17 x 22" or less: $65.00 ; 24 x 34" or less: $85.00 ; 30
x 36" or less: $95.00 ; 32 x 45" or less: $115.00.