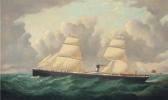 Some works of W.H. Davison
Extracted between 1 works in the catalog of Arcadja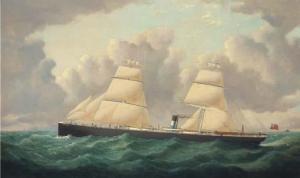 Original 1869
Lot number:
252
Other WORKS AT AUCTION
Description
:
W.H. Davison (British, c.1869)
The auxiliary steamer Tycho Brahe off the South Stack Lighthouse,Anglesey
signed and dated 'W.H. Davison/10/6/69' (lower left)
oil on canvas
31 x 53 in. (79 x 134.5 cm.)
executed in 1869
Lot Notes
The iron screw steamer Tycho Brahe was built for Lamport &Holt's Liverpool, Brazil & River Plate Steam Navigation Co. byA. Leslie & Co. at Newcastle in 1867. Registered at 1,848 tonsgross (1,257 net), she measured 291 feet in length with a 34½ footbeam and could steam at 10 knots with her single screw. Enteringservice to the South American ports in September 1867, she wastransferred to the company's Belgian subsidiary in 1878 andthereafter operated out of Antwerp as a mail ship. In 1892 she wassold to Mr. Charles Wells of London ("the man who broke the Bank atMonte Carlo") who renamed her Palais Royale but only kept her ayear before selling her. By 1894 she was running out ofConstantinople under Turkish colours under the name of Taif whichcontinued until 30th October 1908 when she was lost in theBosphorus after colliding with the Turkish government steamerBaghdad.