William Arthur Davis
Tweet
XIX Century -&nbsp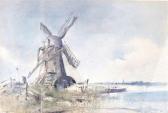 Ewbank Auctions
May 8, 2013
Some works of William Arthur Davis
Extracted between 2 works in the catalog of Arcadja

Original 1850
Lot number:
313
Other WORKS AT AUCTION
Description
:
Arthur Ashpitel, F.S.A. (1807-1869)
A Selection from Palladio
signed 'Arthur Ashpitel F.S.A' (lower right)
pencil, pen and grey and brown ink and watercolour, heightened withtouches of white and with scratching out
20¼ x 50¾ in. (51.4 x 128.8 cm.)
Exhibited
London, Royal Academy, 1850, no. 1127.
Lot Notes
Ashpitel was primarily an architect who trained under his fatherWilliam Hurst Ashpitel (1776-1852). He began his career bydesigning the church of St. Barnabas at Homerton, 1845 andexhibited at the Royal Academy regularly between 1845 and 1864. Healso exhibited in collaboration with John Whichcord Jun. (whobecame his business partner in 1850) from 1852 to 1854. He wasadmitted as a fellow of the Institute of British Architects in 1841and became its Vice-President in 1862.
The present watercolour was exhibited at the Royal Academy in 1850entitled Selection from Palladio and displays a number ofPalladio's architectural commissions: (from left to right) IlRedentore Venice, Palazzo Chiericati, Vicenza, San GiorgioMaggiore, Venice, the Villa Rotunda, Vicenza, Palladio's proposalfor the Rialto Bridge, Venice, the Basilica, Vicenza, Villa Pisani,Bagnola, Villa Pisani, Montagnana, San Zitelle, San Francesco dellaVigna, Venice and Palazzo Valmarana, Vicenza.
This architectural capriccio follows a tradition that includessimilar works such as J.M Gandy's (1771-1843) composition ofdesigns by Sir John Soane (exhibited in 1818), Charles Cockerell's(1788-1863) Tribute to Sir Christopher Wren (exhibited at the RoyalAcademy in 1838) and subsequently A Composition of the Works ofInigo Jones by Sir William Tite (1798-1853), which was exhibited atthe Royal Academy in 1854.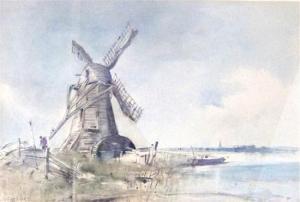 Original
Lot number:
404
Other WORKS AT AUCTION
Description
:
Arthur Davis watercolour of a windmill signed 13"x16"